2007 Ford Escape Repair Histories
81 TrueDelta members own (or used to own) a 2007 Ford Escape. 26 of these members (32.1%) have reported repairs for their car. A total of 77 repairs to 2007 Ford Escapes--an average of 1 per vehicle--have been reported.
See our lemon odds and nada odds page to see vehicles with no repairs or vehicles with more than three repairs. To see how frequently 2007 Ford Escape problems occur, check out our car reliability stats.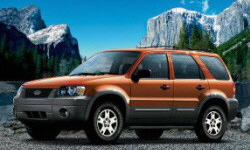 Select a problem area
Need advice about a specific car problem?
Chart based on 77 repairs.
Chart based on 40 repair trips. The repair cost chart excludes repairs made under warranty, do-it-yourself repairs, and repair trips that include maintenance.
2007 Ford Escape 4dr SUV
200-horsepower 3.0L V6 4-speed automatic AWD
Ford Escape in Pennsylvania, United States
Mar 2010 - Mar 2015
61500 mi
US $45500
engine needed -replaced due to timing belt tensioner broke and went inside the engine
69000
window regulator another window regulator failed a couple weeks later, replaced at same time
126000
Water pump started leaking and needed replaced
Ford Escape in Connecticut, United States
Jun 2008 - Sep 2013
28000 mi
US $32
37000
Right rear passenger window wouldn't work. Motor was replaced.
2007 Ford Escape 4dr SUV
153-horsepower 2.3L I4 5-speed manual AWD
Ford Escape in New Jersey, United States
Mar 2008 - Sep 2013
54000 mi
US $65
Idler pulley bearing starting making noise and had to be replaced
125000
Back up light switch stopped working, removed and repaired.
176000
Tone ring broke, brazed it in place.
195000
Had to replace repaired tone ring, but the vehicle has 195,000 miles at this time
2007 Ford Escape 4dr SUV
133-horsepower 2.3L I4 Hybrid CVT FWD
Ford Escape in New York, United States
Nov 2009 - Mar 2015
33000 mi
US $804
Car had a jerk forward around 12mph when decelerating 10% of time. Ford hotline said normal when hybrid battery overcharged. Second repair trip found cracked ABS ring on rt front wheel that sent erroneous signal confusing system, causing jerk. Rattle in front end was worn/damaged bushings and extensions of stabilizer bar links Despite reputation that hybrids have long brake pad life due to regenerative braking, my pads were completely worn and rotors also had to be replaced at 33k
37000
Lost all freon due to leak/hole in condenser
75000
Ring on axle broke (second time also happened earlier on the front). This makes the antilock sense differently and more often operate erratically
95000
Rusted rotors. Other work maintenance such as pads..... All 4 tie rod ends replaced. Too much play
Ford Escape in California, United States
Dec 2010 - Mar 2015
58500 mi
US $35
Service Soon beep and warning light. DTC B1239 (a special Ford code). Replaced blend door actuator, a part of the traction battery cooling system. Has been OK for 2 weeks now.
61000
Replaced rear shocks to prepare for a long trip. Were starting to show signs of wear.
78000
Replaced the motor electronics cooling system (MECS) pump because it was overheating. Fairly common w early Escape hybrids. Labor $100. Parts $210.
79300
"Stop safely now" warning. Replaced a second (different) cooling pump in the hybrid system. The previous repair, the most common cause of such overheating, didn't fix the problem. This one did.
103700
replace worn tie rod ends, plus 4-wheel alignment
Ford Escape in Texas, United States
Jun 2008 - Aug 2013
47000 mi
US $17
Minor slow emissions leak - replaced after-market locking gas cap.
84000
Hybrid battery ventillation door actuator intermittent - replaced and reflashed module. Part cost $44, $405 labor and diagnostic fees.
89000
A/C weak performance in urban setting; okay during hwy driving. Dealer recommended compressor replacement. Another shop reported high refrigerant pressures, suggested restriction/blockage. Hybrid service info unavail; not released by Ford.
102000
AC system problems: leak in system, incorrect pressures. Fill system and charge with dye. Return visit to understand leak. More repairs pending.
104000
Hybrid battery evaporator and comfort cooling evaporator had obstructions. Clean and repl orifice tube. Repl dryer/filter and recharge. System better but not 100%.
119000
Replace blower fan switch Replaced dash lights.
122000
Diagnosis only, no repairs.
123000
Prior trip to dealer recommended compressor, accumulator, thermal control valve replacement for $2200 estimated repairs,Found evidence of refrigerant leak.I replaced those parts plus the serpentine belt for about $700. Paid a friend to help
Ford Escape in Oregon, United States
Jun 2009 - Mar 2015
43800 mi
US $600
Engine system coolant pump replaced. Not under warranty. Service soon light coming on occasionally for a month with increasing frequency. Light continued to come on 3x weekly after repair.
44500
Navigation system not working intermittently. Screen dimming, flipping through pages randomly, turning on and off on own,sound not loud enough. Via phone dealer says it sounds like the control head, entire unit needs replaced. We did not fix. Est $500.
48000
Ongoing problem with check engine light. Replaced engine system coolant pump x2 and light still coming on. System reset as well. Found out that the door to the hybrid battery in this system was not working properly. Not urgent, delaying repair $$$
58100
Door to hybrid battery compartment replaced. Service soon light kept coming on 3x/week. Had previously replaced pump twice only to find out it was this door instead.
67300
12v battery going dead when ignition turned on but car not running for 30min, happened mulitiple times. Dealer said battery fine, replaced anyway and problem stopped. Believe damage to battery is due to Nav CD player malfunction. Nav system on fritz, going on and off on own, trying to eject cd continuiously but unsuccessfully, did not fix due to cost, repaired on own quite successfully by hitting the dashboard just above the Nav system with fist. Works great!!
105000
Windsheild wipers detached from the frame and needed to be welded into place.
169000
Steering wheel loose.
2007 Ford Escape 4dr SUV
133-horsepower 2.3L I4 Hybrid CVT AWD
Ford Escape in Michigan, United States
Jun 2008 - Apr 2012
55000 mi
US $280
Problem: ABS light and 4x4 light intermittently went on (could feel it activate). Dealer diagnosed replaced LF tone ring.
58500
tone ring replacement. This is the "other side" from the repair 6 months ago. They took ~$100 off the bill as the two repairs were so close.
62000
blend door replacement? $34 part with lots of labor to access (removal of dash)
Ford Escape in Ontario, Canada
Mar 2010 - Oct 2012
39680 mi
C $1000
Front rotors were shot, cratered- cheap steel. Hybrid problem since brakes not used much
45260
Weak battery, after sitting for weekend would be dead- replaced brakes grab after sitting for couple days ...starting to grind again....was told thats because its a hybrid so most braking is on generator & brakes get rusty- 'normal' :-/- maybe for a Ford?
46500
Condensor failed, had to be replaced
52700
3rd time in for brakes. rusted rotors, pads shot. Was told because hybrid doesnt use brakes as much lol. what a POC