2008 Nissan Versa Repair Histories
172 TrueDelta members own (or used to own) a 2008 Nissan Versa. 86 of these members (50%) have reported repairs for their car. A total of 257 repairs to 2008 Nissan Versas--an average of 1.5 per vehicle--have been reported.
See our lemon odds and nada odds page to see vehicles with no repairs or vehicles with more than three repairs. To see how frequently 2008 Nissan Versa problems occur, check out our car reliability stats.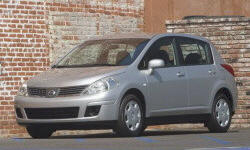 Select a problem area
Need advice about a specific car problem?
Chart based on 257 repairs.
Chart based on 68 repair trips. The repair cost chart excludes repairs made under warranty, do-it-yourself repairs, and repair trips that include maintenance.
2008 Nissan Versa 4dr Sedan
122-horsepower 1.8L I4 CVT FWD
Nissan Versa in Ontario, Canada
Dec 2007 - Mar 2015
3720 mi
Vehicle taken in to identify possible problem with weatherstripping. Weatherstripping/window seal replaced.
48980
hard start intermittently/fuel pressure regulator seems to be the problem; could not replicate at dealer; am waiting for the problem to redevelop and will take it back
94240
C $300
muffler broke at gasket
104780
right and left ball joints
107880
told stabilizer bar worn and needed replacing; replaced
2008 Nissan Versa 4dr Hatch
122-horsepower 1.8L I4 CVT FWD
Nissan Versa in California, United States
Feb 2008 - Mar 2010
4000 mi
Clicking sound when acccelerating and decellerating, axle bolts were tightend to fix the clicking sound. Paint flaking off of the air bag cover. New air bag cover was ordered.
8000
The steering wheel airbag cover paint was starting to chip off. A new part was ordered and installed.
12000
Car exibited a clunking sound when turned. I was advised that it was the front strut bearings and they would be replaced under warranty.
Nissan Versa in Utah, United States
Sep 2007 - Mar 2015
20 mi
US $16800
Car rattles as engine idles. Dealer reset idle control. Better, but not fixed. Brake line was hitting firewall, repaired but not fixed. Dealer determined engine is vibrating excessively and is replacing engine mounts. Will update if not fixed.
520
Engine mounts arrived and car taken to shop. During engine mount job the tech noticed missing clip under insulation which secured lines away from firewall. Replacing clip fixed the rattling noise. Dealer did not need to replace engine mounts.
33000
Bluetooth microphone produced static. Replacing microphone resolved the problem
Nissan Versa in Quebec, Canada
Sep 2007 - Jun 2011
4960 mi
Windshield defrost, heat only half (lower half) of the windscreen, remainder stay frozen making the vehicle hard to drive for an average height person(living in northen country). Trunk hard cover, snaps busted (3/5 broken).
6820
Defrost problem persist, w/s only defrost halfway.
9300
Defrost problem same as before.
13640
Trunk cover piece replaced. Air conditioned was not very cold with all proper setting. Dealer check and add more refrigerent. Problem solved
22940
C $50
Windshield only heats halfway.
29140
CVT Transmission sounded like a manual trans. when backing up and while in first gear. Transmission replaced.
39060
rear wiper motor making gear to gear noise while motoring. new motor ordered and will be installed on next visit.
48980
Wiper motor was making ratchety noise but was successfully repaired with new parts - under warranty. Driver side window seal was leaking inside due to the flap wedge that aligns the window to the frame. Window seal replaced but not covered through basic warranty, so dealer paid for defective part.
50840
Water leaks. It took a total of 4 visits and 7 days to find the problem. It was a plug on the door post between the front fender and the driver side door. Plug installed and problem will still to be monitored with the next few rainy days.
Nissan Versa in Virginia, United States
Oct 2007 - Mar 2015
3000 mi
Customer says at times when the key is turned to start it cranks but does not catch-cranks way too long. Found fuel pump internal failure. Removed and replaced fuel pump assembly.
11000
Driver side seat recliner squeak, replaced reclining mechanism. No more noise.
11000
Customer states the driver side seat back is making noise at all times. Install SOP-Drivers side seat assembly excessive play. R&R driver side seat assembly.
25000
C/S that tire pressure lamp is illuminated. Check and Advise. Nissan found that left rear tire pressure monitor leaking and in need of replacement. Nissan installed a new left rear tire pressure monitor and programmed monitor to vehicle to resolve.
28000
Customer says Right Fog Light is out.Internal Failure Replaced right side fog light bulb.
34000
Second RF Fog light failure. Found internal failure of bulb. Replaced RF fog light bulb.
60000
US $15
C/S Drivers LR brake light inop, check and advise. New left rear brake light installed
101000
customer states that front and rear brakes are below specs. Customer want front and rear brakes replaced. Removed and replaced rear shoes and machined rotors, removed and replaced Front pad and resurfaced front brake rotors.
107000
When coming to complete stop popping noise heard. then when taking off popping noise is heard again. Front rotors chattered up. R&R front rotors and test drove. On way home from rotor replacement the LF Ball Joint failed, customer drove vehicle back to dealer for diagnosis. Front lower control arms cracked and bushings failure. R&R both Lower Control Arms and Ball Joints. total cost $737.64
108703
Customer states muffler broke off at flange. Found muffler had a welding failure at flange. R&R muffler.
145000
Vent control valve failure code P0456 stored. owner R&R vent control valve. owner reset check engine light.
147000
Fuel tank leaking,seal around fuel sending unit small crack, R&R fuel pump assembly.
149000
muffler and middle exhaust pipe rusted off, R&R mid pipe and muffler.
155700
owner has a hesitation while coming out of corners, TSB from Nissan reports faulty throttle body unit, owner replaced and reprogrammed new throttle body.
157000
Customer states car lagging no throttle pickup check and advise, found 3 CVT transmission failure codes, per customer request removed and replaced CVT transmission. transmission failed at 156400 miles.
Nissan Versa in Alberta, Canada
Nov 2007 - Mar 2010
1240 mi
Plastic section or Rear Tail light was not flush with body. Repaired and replaced under warranty. No hassles. Received free rental. New tail light assembly installed.
2008 Nissan Versa 4dr Hatch
122-horsepower 1.8L I4 6-speed manual FWD
Nissan Versa in Vermont, United States
Sep 2007 - Mar 2015
1000 mi
I didn't think the car was heating well (took too long to get to desirable heat/ desirable heat wasn't warm enough--my comparisons are to my '94 Subaru Legacy Wagon). Nissan measured engine output for heat and cabin heat, but proved nothing wrong.
4000
Difficulty turning over during start up. Was told problem with pressure gauge and it reading wrong pressure and therefore cannot start up easily. Common problem with 07/08 Versa apparently. Part(s) ordered, still waiting (almost a month now...)
8000
Car had difficulty starting up again, after it had it's fuel pressure sensor replaced. Brought it in only to be told they'd have to order a new fuel pump, so now needed to wait and return when part in. Difficulty with car turning over when trying to start up. 5-10 sec. lag/engine strain sound, and then eventual start up.
19000
US $50
Floor heat not working. Radio intermittently cuts out. Told could not replicate problems, and that the Versa doesn't have powerful floor heating.
29000
Tire Pressure Monitoring System (TPMS) light blinks then stays on. Tires reset, things ok, then light comes back. Told batteries in tires TPMS are dead and whole units need to be replaced at $150 each, must get all, necessary for inspection
31000
Muffler separated from exhaust pipe at flange. Rusted? Quoted at Midas flange repair $290 or could cut out, put pipe in gap and weld all together for $150. Inquiring/comparing elsewhere now, also seeing what parts go for online.
31300
Pipe leading to muffler separated from the exhaust at the flange due to rusting. Midas cut out problem area and welded on new pipe (could have had new flange and more "proper" fix, but would have cost double).
2008 Nissan Versa 4dr Hatch
122-horsepower 1.8L I4 4-speed automatic FWD
Nissan Versa in Tennessee, United States
Mar 2008 - Jan 2012
3000 mi
Driver's side door rattled above 40 mph.
9000
Foam between air conditioner pipe and bracket fell off, allowing pipe to rattle against bracket. New foam insulator installed.
52000
Window washer fluid was leaking down the inside of the hatch when sprayer was used. Removed rear hatch trim and reassembled hose to washer fluid nozzle. DIY repair.
2008 Nissan Versa 4-door
4-cylinder manual 2WD
Nissan Versa in Nevada, United States
Mar 2008 - Mar 2010
5000 mi
Dash rattle. Dealer replicated, but said all vehicles do that from the factory so I was told not to worry about it. Still makes noise to this day.
2008 Nissan Versa 4-door
4-cylinder CVT 2WD
Nissan Versa in California, United States
Mar 2008 - Mar 2010
1000 mi
Heater blowing cold air at idle.