2004 Toyota Prius Repair Histories
122 TrueDelta members own (or used to own) a 2004 Toyota Prius. 60 of these members (49.2%) have reported repairs for their car. A total of 150 repairs to 2004 Toyota Prii--an average of 1.2 per vehicle--have been reported.
See our lemon odds and nada odds page to see vehicles with no repairs or vehicles with more than three repairs. To see how frequently 2004 Toyota Prius problems occur, check out our car reliability stats.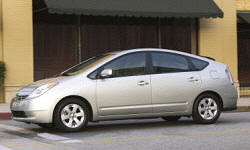 Select a problem area
Need advice about a specific car problem?
Chart based on 150 repairs.
Chart based on 80 repair trips. The repair cost chart excludes repairs made under warranty, do-it-yourself repairs, and repair trips that include maintenance.
2004 Toyota Prius 4dr Hatch
76-horsepower 1.5L I4 Hybrid CVT FWD
Toyota Prius in California, United States
May 2008 - Jun 2011
65000 mi
US $120
The shifter would not return to the neutral position after it was placed in drive or reverse. Dealer wanted $700 to replace. Got new one from junkyard for $120. Checking old one, found insufficient grease.
67000
Have the fancy 6 cd radio, but the problem is the AM is junk, it cannot pull in the traffic news stations in my area. Several friends are having the same problem with pulling in the am stations, including the mechanic who looked at it and checked antenna
Toyota Prius in Kansas, United States
May 2008 - Nov 2011
112000 mi
US $239
Repaired in June. Car died on road. Wichita Toyota dealership replaced a fuse to repair,charged $240 service advisor lied as to which fuse I later found out. Replaced faulty cooling pump myself.
157000
MFD screen intermittently malfunctions, several times/day with audio and a/c problems. I took out MFD, cleaned the main connection between the two inner circuit boards, sprayed same with contact cleaner from Radio Shack. Reassembled and works like new.
Toyota Prius in Colorado, United States
Jan 2009 - Mar 2012
162000 mi
US $30
I replaced the two HID headlights with cheap aftermarket bulbs. The lights were going out while driving. Turning the light switch off and back on made the lights come back on. Now the lights stay on until they are turned off.
173000
The traction battery went bad. I got a new battery from a 2007 Prius with 26k miles from a junk yard. The battery was 400 and Toyota gave me 150 back for the old battery. I will also sell the battery ECU for maybe 50.
Toyota Prius in California, United States
Jan 2007 - Jun 2011
98000 mi
Replaced audio system headunit because it wouldn't play CDs reliably.
100000
US $25
Left axle seal was leaking "pretty good". Covered by a 7-year 100k extended warranty, $25 deductible. Problem was discovered while the dealership performed a "pre-delivery inspection" done at my request and for which I paid $95, to find problems.
115000
While the car was at the dealership for an oil change, we were told that the inverter coolant pump was noisy and needed replacing. The car was taken to an indy shop, who said that there was no problem with the inverter coolant pump.
124000
Replaced passenger side tail lamp assembly because the LED brake light was working intermittently. One LED was completely non-functional and the rest would fail to illuminate about 50% of the time. Both front door-panel-mounted speakers (JBL) had torn surrounds. Both speakers were replaced with aftermarket speakers.
Toyota Prius in Ontario, Canada
Oct 2006 - Mar 2015
57040 mi
C $44
Check engine code P0138 post-catalytic converter O2 sensor. Part ordered.
58900
Dealer replaced O2 sensor, but check engine light still came on. I then purchased a ScanGauge for $170 to clear and diagnose the problem.
61380
Check Engine light P0031 fixed by replacing air-fuel ratio sensor. I purchased the replacement sensor over the Internet since dealer price was high.
116560
Replaced oxygen and air/fuel sensors to clear check engine light. Also replaced a leaking exhaust gasket. Dealer also replaced inverter cooling pump at no cost (recall). Replaced brake fluid (maintenance item).
140720
Replaced stainless steel muffler since it had developed a hole.
164280
Noise proportional to speed and steering. Bought new Chinese made hubs online and got local shop to replace both front wheel bearings.
Toyota Prius in Maryland, United States
Dec 2006 - Feb 2010
49000 mi
US $200
Gear shift lever was binding and sounded like it was going to break. Shop said lever was bent behind dash. They fixed the lever and greased the rods.
Toyota Prius in Kentucky, United States
Jun 2007 - Jun 2011
53000 mi
Dash on passenger side is warping and interferes with opening top of glovebox.
Toyota Prius in Arizona, United States
Oct 2005 - Dec 2014
21200 mi
Replace hood latch
38
Burned out L.E.D. "Headlights On" indicator light. Dealer quoted $542 to repair/replace. High cost due to labor of pulling dash.
45000
Inverter Water Pump. Car not driveable. Parts had to be ordered. Took 2 days for parts to arrive and 1 day to install.
52000
US $67
Defective Shade, driver's side. Would not stay up out of the way, could not push fully forward. Seam splitting. Replaced with new one.
82000
Replaced both headlights, at $150 each, which required removal and replacement of front bumper for an additional $125 labor. Vacuum seal wouldn't close so had to be replaced. Parts and labor $550.
106000
Gas engine water pump was considered leaking by the dealer. Not noticed by owner.
110700
Water pump and thermostat had to be replaced
116300
Rear passenger tail light replaced.
Toyota Prius in Connecticut, United States
Dec 2005 - Dec 2014
42145 mi
US $164
AC Condenser leak
105000
Hydraulic squeak in right front of Prius when brake depressed. Required bleeding the right front caliper. Note: the dealer wanted to do a full front brake job (pads & rotors) for over $450. None of that work was required.
172000
Classic 2004 MFD failure. Repair requires dash removal, MFD removal (with minor dis-assembly) and re-soldering connector pin 60 connection. Instructions at: http://www.techno-fandom.org/~hobbit/cars/mfd/ $3000 if Dealer did the work!
173000
CD player rejecting most CDs. Replaced unit with one salvaged from a 2006 Prius. Part came from AutoBeYours.com
180000
Deferred Maintenance of the front Struts. Replaced both struts and upper mounts at my local gas station (not hybrid related so dealer not required) Diagnose periodic "clunk" in steering column - $90. Parts ordered. Did ATF refresh (3rd time) - $100. Replaced upper steering Column unit! cost $800 + diag. Parts - $600 (Shaft assembly, Yoke sub assembly, Steering shaft 1) Labor $180
196000
HV battery failed at 194k miles. High RPM when accelerating. SOC fluctuated rapidly. MPG OK. Later the dashboard lit up - P0A80 code. ReInVolt (NC) supplied a refurbished battery for $1600 to my Dealer (CT) who installed it for $400.
211000
The Salvage Stereo installed previously became intermittent (CD skipped tracks). Had a local Stereo shop install a Pioneer Stereo for $250. Works much better than the OE in all respects, but gave up the steering and MFD control functions.
213000
The 12v battery was finally showing it's age. Replaced it with an Optima Yellow-Top (with Japanese thin terminals).
Toyota Prius in California, United States
Jun 2007 - Mar 2010
109000 mi
US $300
Replace front brake pads