BMW 3-Series Reliability
You won't find BMW 3-Series reliability information like this anywhere else. Actual repair frequencies, not just vague dots. So you can tell how much the BMW 3-Series truly differs from competing car models in reliability.
These stats are promptly updated four times a year, to much more closely track BMW 3-Series reliability as the cars age. Others tell you how reliable the BMW 3-Series was a year ago, when the cars were a year younger and had 12,000 fewer miles on them. Only TrueDelta tells you how reliable the BMW 3-Series has been recently.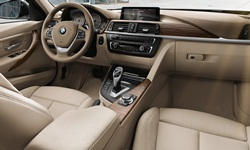 See only powertrain and chassis results
Year
Make/Model
Repair Frequency

successful repair trips per 100 cars per year

Compared to all models for the same year
2015
BMW 3-Series / M3
see reported repairs
2014
BMW 3-Series
71 3-Series, 7.2 months of data per 3-Series, average 7100 miles

Includes 4-Series.33

Fewest Trips Most Trips

see reported repairs
2013
BMW 3-Series 4dr
81 3-Series 4drs, 9.4 months of data per 3-Series 4dr, average 16900 miles27

Fewest Trips Most Trips

see reported repairs
2012
BMW 3-Series 2dr and wagon
16 3-Series 2dr and wagons, 9.7 months of data per 3-Series 2dr and wagon, average 21900 miles

* Small sample size. Join or 16 3-Series 2dr and wagons, 9.7 months of data per 3-Series 2dr and wagon, average 21900 miles

* Small sample size. sign in to view
see reported repairs
2012
BMW 3-Series sedan
28 3-Series sedans, 8.0 months of data per 3-Series sedan, average 22700 miles

First year for F30 3-Series sedan. 43

Fewest Trips Most Trips

see reported repairs
2011
BMW 328
106 328s, 8.5 months of data per 328, average 36300 miles

Average odometer reading much lower for the M3. 53

Fewest Trips Most Trips

see reported repairs
2011
BMW 335
41 335s, 8.5 months of data per 335, average 38200 miles

Average odometer reading much lower for the M3. 52

Fewest Trips Most Trips

see reported repairs
2011
BMW M3
22 M3s, 9.1 months of data per M3, average 35900 miles

* Small sample size. Join or 22 M3s, 9.1 months of data per M3, average 35900 miles

* Small sample size. sign in to view
see reported repairs
2010
BMW 328
26 328s, 10.0 months of data per 328, average 50600 miles51

Fewest Trips Most Trips

see reported repairs
2010
BMW 335
14 335s, 9.6 months of data per 335, average 47100 miles

* Very small sample size. Join or 14 335s, 9.6 months of data per 335, average 47100 miles

* Very small sample size. sign in to view
see reported repairs
2009
BMW 328
51 328s, 8.7 months of data per 328, average 54500 miles

Average odometer reading much lower for the M3.35

Fewest Trips Most Trips

see reported repairs
2009
BMW 335
23 335s, 9.2 months of data per 335, average 48900 miles

* Small sample size. Join or 23 335s, 9.2 months of data per 335, average 48900 miles

* Small sample size. sign in to view
see reported repairs
2009
BMW M3
14 M3s, 8.8 months of data per M3, average 39200 miles

* Very small sample size. Join or 14 M3s, 8.8 months of data per M3, average 39200 miles

* Very small sample size. sign in to view
see reported repairs
2008
BMW 328
33 328s, 9.7 months of data per 328, average 69100 miles

Average odometer reading much lower for the M3. Non-M repair frequency spiking, possibly because CPO warranty ending.90

Fewest Trips Most Trips

see reported repairs
2008
BMW 335
44 335s, 9.9 months of data per 335, average 62900 miles

Average odometer reading much lower for the M3. Non-M repair frequency spiking, possibly because CPO warranty ending.77

Fewest Trips Most Trips

see reported repairs
2008
BMW M3
28 M3s, 9.8 months of data per M3, average 45200 miles

Average odometer reading much lower for the M3. Non-M repair frequency spiking, possibly because CPO warranty ending.74

Fewest Trips Most Trips

see reported repairs
2007
BMW 328
59 328s, 9.6 months of data per 328, average 75700 miles78

Fewest Trips Most Trips

see reported repairs
2007
BMW 335
49 335s, 8.8 months of data per 335, average 76400 miles84

Fewest Trips Most Trips

see reported repairs
2006
BMW 3-Series 2dr
20 3-Series 2drs, 9.9 months of data per 3-Series 2dr, average 67000 miles

* Small sample size. Join or 20 3-Series 2drs, 9.9 months of data per 3-Series 2dr, average 67000 miles

* Small sample size. sign in to view
see reported repairs
2006
BMW 3-Series 4dr
64 3-Series 4drs, 9.1 months of data per 3-Series 4dr, average 93100 miles

First year for the E90 4-door.70

Fewest Trips Most Trips

see reported repairs
2005
BMW 3-Series
27 3-Series, 10.0 months of data per 3-Series, average 94100 miles

Average odometer reading much lower for the M3.58

Fewest Trips Most Trips

see reported repairs
2005
BMW M3
12 M3s, 9.8 months of data per M3, average 69400 miles

* Very small sample size. Join or 12 M3s, 9.8 months of data per M3, average 69400 miles

* Very small sample size. sign in to view
see reported repairs
2004
BMW 3-Series
60 3-Series, 8.7 months of data per 3-Series, average 108600 miles

Average odometer reading much lower for the M3.78

Fewest Trips Most Trips

see reported repairs
2004
BMW M3
14 M3s, 8.5 months of data per M3, average 100500 miles

* Very small sample size. Join or 14 M3s, 8.5 months of data per M3, average 100500 miles

* Very small sample size. sign in to view
see reported repairs
2003
BMW 3-Series
35 3-Series, 8.8 months of data per 3-Series, average 107000 miles

Average odometer reading much lower for the M3.113

Fewest Trips Most Trips

see reported repairs
2003
BMW M3
10 M3s, 7.5 months of data per M3, average 79700 miles

* Very small sample size. Join or 10 M3s, 7.5 months of data per M3, average 79700 miles

* Very small sample size. sign in to view
see reported repairs
2002
BMW 3-Series
35 3-Series, 9.4 months of data per 3-Series, average 122900 miles

Average odometer reading much lower for the M3.88

Fewest Trips Most Trips

see reported repairs
2002
BMW M3
13 M3s, 7.9 months of data per M3, average 105200 miles

* Very small sample size. Join or 13 M3s, 7.9 months of data per M3, average 105200 miles

* Very small sample size. sign in to view
see reported repairs
2001
BMW 3-Series
42 3-Series, 8.7 months of data per 3-Series, average 139700 miles88

Fewest Trips Most Trips

see reported repairs
2000
BMW 3-Series
28 3-Series, 8.1 months of data per 3-Series, average 142900 miles96

Fewest Trips Most Trips

see reported repairs
What People Are Saying about Reliability and the BMW 3-Series
blog comments powered by Disqus
What Our Members Are Saying about the Reliability and Durability of the BMW 3-Series
BMW 3-Series Reliability and Durability: Pros
Year
Body/Powertrain
Comment
2012
4dr Sedan turbocharged 240hp 2.0L I4
8-speed shiftable automatic RWD
I traded in a 2005 BMW with 92,000 miles on it, if the realiability of the old one is any indication to the experience I hope to have with the 2012, then I have little to nothing to worry about.
2008
4dr Sedan 230-horsepower 3.0L I6
6-speed manual RWD
The car has a BETTER THAN AVERAGE frequency of repair record with Consumer Reports.
2008
2dr Coupe 414-horsepower 4.0L V8
7-speed automated manual RWD
Not yet tested to a full extent on my M3 under review, bust as previous BMW owner I enjoyed minimal component failures after many years of ownership.
2008
2dr Coupe 230-horsepower 3.0L I6
6-speed shiftable automatic AWD
History is promising.
2008
2dr Coupe turbocharged 300hp 3.0L I6
6-speed shiftable automatic AWD
Historically, reliable
2008
2dr Hardtop conv. turbocharged 300hp 3.0L I6
6-speed shiftable automatic RWD
Have owned this car for 5 years; have had two replacement high pressure fuel pumps; replaced steering rack; new turbo gaskets (both turbos); replaced articulating hard top cables - all in the first 3 years and all under warranty! Nothing has gone wrong in the past two years so perhaps this was relatively new model growing pains.
2008
2dr Hardtop conv. turbocharged 300hp 3.0L I6
6-speed shiftable automatic RWD
Have owned this car for 5 years; have had two replacement high pressure fuel pumps; replaced steering rack; new turbo gaskets (both turbos); replaced articulating hard top cables - all in the first 3 years and all under warranty! Nothing has gone wrong in the past two years so perhaps this was relatively new model growing pains.
2007
2dr Coupe turbocharged 300hp 3.0L I6
6-speed shiftable automatic RWD
This vehicle has a great performance record.
2007
4dr Sedan 230-horsepower 3.0L I6
6-speed shiftable automatic RWD
No problems after 3 years
2007
4dr Sedan 230-horsepower 3.0L I6
6-speed shiftable automatic RWD
Tried & true technology
BMW 3-Series Reliability and Durability: Cons
Year
Body/Powertrain
Comment
2011
2dr Hardtop conv. 230-horsepower 3.0L I6
6-speed shiftable automatic RWD
Glovebox won't open.
2010
4dr Sedan 230-horsepower 3.0L I6
6-speed shiftable automatic AWD
I'm a little nervous about repair costs and frequency. I keep reading about 4-figure repair bills, but there are others who say they've done well with just normal maintenance. Consumer Reports gives the 2010 328i a lot of red dots which is a goo
2010
4dr Sedan 230-horsepower 3.0L I6
6-speed shiftable automatic AWD
Small things keep breaking or failing. The engine and drivetrain are solid though.
2009
4dr Sedan 414-horsepower 4.0L V8
6-speed manual RWD
More prone to breakdowns than the Japanese competition.
2009
4dr Sedan turbocharged 265hp 3.0L I6 Diesel
6-speed shiftable automatic RWD
Always a glitch or two.
2009
2dr Coupe turbocharged 300hp 3.0L I6
6-speed shiftable automatic RWD
Fuel pump, oil cooler, and run flat tire issues on the 335i turned me off. Will likely be covered by warranty, but met multiple people who had week long+ repairs for these issues. After warranty, 1,200+ for each of these issues is apparently common.
2008
2dr Coupe turbocharged 300hp 3.0L I6
6-speed manual RWD
not as reliable
2008
4dr Wagon 230-horsepower 3.0L I6
6-speed shiftable automatic RWD
Poorer reputation than Lexus based on internet research. Stock run flat tires have short life and rough ride. Lack of spare limits options
2008
2dr Coupe 414-horsepower 4.0L V8
6-speed manual RWD
I have never had major problems with my BMW's, but I have never kept them out of warranty either. M cars are ridiculously expensive to repair. The only car company where the coolant is designed to outlast the radiator. When they break, they brea
2008
2dr Hardtop conv. turbocharged 300hp 3.0L I6
6-speed shiftable automatic RWD
Possibly expensive repair track record when 4-year warranty end