2008 Ford Escape Repair Histories
146 TrueDelta members own (or used to own) a 2008 Ford Escape. 74 of these members (50.7%) have reported repairs for their car. A total of 184 repairs to 2008 Ford Escapes--an average of 1.3 per vehicle--have been reported.
See our lemon odds and nada odds page to see vehicles with no repairs or vehicles with more than three repairs. To see how frequently 2008 Ford Escape problems occur, check out our car reliability stats.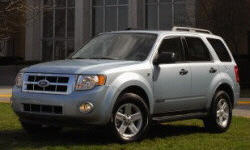 Select a problem area
Need advice about a specific car problem?
Chart based on 184 repairs.
Chart based on 49 repair trips. The repair cost chart excludes repairs made under warranty, do-it-yourself repairs, and repair trips that include maintenance.
2008 Ford Escape 4dr SUV
200-horsepower 3.0L V6 4-speed automatic FWD
Ford Escape in Ontario, Canada
Jan 2008 - Mar 2015
3100 mi
The connection from transmission cooler to transmission became loose and all the transmission fluid leak out making the vehicle undriveable.
17841
Condensor Assembly replaced as transmission fluid was leaking into airconditioning condensor ?? Also the ignition coil assembly was replaced as several fault codes were being produced. No charge due to extended repair contract.
37160
Steering vibrating when brakes applied at highway speed. The Rotors and pads at front were replaced covered by extended warranty plan.
42120
C $400
The Air Conditioner / Heat Blower ceased operating the dealer indicated the resistors had failed ?
45220
The rear hatch lock does not operate and the hatch cannot be opened
46500
The repaired rear hatched ceased operating a couple days after initial repair and has now been back to the dealer twice
50220
ABS and TCS warning lights are on
Ford Escape in Georgia, United States
Feb 2008 - Mar 2012
2000 mi
Intermittent noise when braking in back wheel. Service Manager told me that there was a bulletin problem, solution was to remove wheels and lube. Also, they reset the oil life sensor, light had come on during previous week.
16000
US $190
The hydraulic system which helps raise back door and keep it up failed on both sides.
2008 Ford Escape 4dr SUV
200-horsepower 3.0L V6 4-speed automatic AWD
Ford Escape in Vermont, United States
Aug 2007 - Jun 2011
11000 mi
Rear window leaking water on inside and rattle at rear window. Corrected. Rear window defroster. 3 bands quit working. Parts ordered
12000
3 bands quit working. Parts ordered Month: November 2008, Repaired 12/26/2008.
18000
US $22
One of the pins on the factory towing package wire harness that connects to the car to the trailer corroded away. This also happened on my 2001 Escape. I had only towed my boat 5 times. Didn't even bother to report to Ford. It would happen again
22000
Front end creaked steering wheel, shock tightened loose bolts. Rear door rattled. Checked and tightened rear door struts. Still rattled. Determined that needs new door latch. Greased latch for now and ordered new latch to be installed at a later date
31000
Rear door rattled and was repaired. Transmission started to slip and was returned to have transmission repaired. There was a recall for hose leaking to transmission cooler. Hose was replaced (warranty) and trans flushed (30k miles)
Ford Escape in New York, United States
Apr 2008 - Nov 2014
I picked up new vehicle with 16.9 miles. Discovered the left turn indicator did not clear after completing the turn.
Also discovered 2 leaks of water on pass. floor within 50 additional miles. I returned the Escape to the dealer with ~85 miles. Repaired turn signal.
19000 mi
US $240
Automatic transmission fluid leak. They claimed that it was a condensor but it really seemed to be the tank on the radiator or the threaded connecton to it became loose and leaked ATF on the driveway.
113000
Engine miss, remained after I replaced 3 of the 6 spark plugs. Could have been an ignition coil, another spark plug, maybe even the fuel filter.
Ford Escape in United Arab Emirates
Feb 2008 - Aug 2014
78460 mi
¤1500
The brake pedal was soft and could hear "air leakage" sound, brake action could not kick-in before the pedal almost hitting bottom. Quite scary as it took longer to stop the vehicle. Needed master cylinder and HCU unit (for solenoid valve).
88660
The rear left window was not closing. The mechanism had to be repaired with change of spare parts and the cost of repair outsiide Ford was just about $100. Ford dealer quoted over $ 200.
Ford Escape in North Carolina, United States
Oct 2007 - Jun 2011
1000 mi
Discovered trash in the paint in small area. Problem 1 Trip 2: An improvement was made during Problem 1 Trip 1, but still was not repaired to our satisfaction.
31000
Defective drivers side back window regulator.
35000
Transmission cooler leaking and replaced.
Ford Escape in Pennsylvania, United States
Sep 2007 - Jan 2014
5000 mi
mini overhead console door would fly open every time i hit a bump, or i would not be able to keep it to stay closed at all. new console installed, and it's working properly. hard ridge formed in drivers seat under left thigh. ford shop sent it to an upholstery shop to repair.
21000
Transmission fluid leaking from transmission cooler.
21500
check engine light on. There was a TSB for moving the vent hole in the gas tank. The original position got plugged with ice. Also there was a loose hose under the hood. Possibly from previous repair?
27000
Air conditioner barely cooling. weather strips on both front doors loose at bottom. doors not sealing completely. new ones ordered by dealer's shop.
97700
US $75
Sporatic problem when applying brakes. Makes a noise similar to antilock brake system, pedal goes down further and then stops. Both dealer and personal mechanic have not been able to find problem to fix it. Rotor replacement didn't fix this
Ford Escape in Northwest Territory, Canada
Jan 2008 - Jun 2011
12400 mi
Gas tank was slow filling. The dealer told me that almost all of their 2007 and 2008 Escapes have a problem where the gas tank vent gets clogged with ice and dirt. There is apparantly a TSB on it. They fixed and cleaned the fuel tank vent as per the TSB.
15500
Had transmission fluid puddles under car. The transmission cooler developed a leak. TSB issued for this. The service rep told me the bolt attaching the fluid hose to the cooler corrodes and and everything must be replaced. After only one year of service?
20460
During visit for oil change and brake job, mechanic noticed front left sway bar linkage needed to be replaced.
26660
Bushing on sway bar linkage.
31620
A gear on the front axle that monitors the Electronic Stability Control system (and thus the antilock brakes) was cracked, sending false signals to the ESC, causing the anitlock brakes to activate when driving.
38440
Noticed ABS kicking in slightly. Replaced front brakes. Front Stability Control ring cracked (twice now) and replaced. Got car back and noticeable knocking sound in front. Stabilizer bar links cracked... again. Very weak metal.
2008 Ford Escape 4dr SUV
153-horsepower 2.3L I4 4-speed automatic FWD
Ford Escape in Delaware, United States
Apr 2008 - Mar 2010
3000 mi
Rubber weatherstrip around sunroof was cracked and needed to be replaced. Due mostly to defect in rubber, or out of shelf-life material used.
2008 Ford Escape 4dr SUV
133-horsepower 2.3L I4 Hybrid CVT FWD
Ford Escape in Wisconsin, United States
Jan 2008 - Mar 2015
16000 mi
Warning light came on about a transmission problem, but nothing was apparent in the operation of the vehicle. Happened initally when operating on battery, but became more frequent, happening when running gas or electric engine.
21000
Display indicated "Stop Safely Now" as vehicle came to a complete stop. Had to power off, unlock doors, and restart vehicle.
47000
Fixed a temperature difference between driver and passenger side vents. Covered by a TSB and under warranty as it was originally reported while still under warranty.
63000
US $100
Two codes were reported, repaired under a combination of extended warranty and a technical service bulletin. The water pump needed to be repaired/replaced.