2003 GMC Envoy Repair Histories
61 TrueDelta members own (or used to own) a 2003 GMC Envoy. 26 of these members (42.6%) have reported repairs for their car. A total of 108 repairs to 2003 GMC Envoys--an average of 1.8 per vehicle--have been reported.
See our lemon odds and nada odds page to see vehicles with no repairs or vehicles with more than three repairs. To see how frequently 2003 GMC Envoy problems occur, check out our car reliability stats.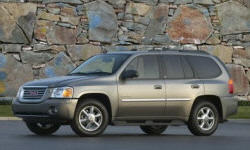 Select a problem area
Need advice about a specific car problem?
Chart based on 108 repairs.
Chart based on 50 repair trips. The repair cost chart excludes repairs made under warranty, do-it-yourself repairs, and repair trips that include maintenance.
2003 GMC Envoy 4dr SUV, ext.
290-horsepower 5.3L V8 4-speed automatic 4WD w/low range
GMC Envoy in Pennsylvania, United States
Sep 2003 - Sep 2014
16175 mi
Transmission slips then bangs into gear - found 2 - 4 bands shot, clutch worn and metal shavings in pan. Dealer installed new transmission, under Warranty
25717
Replaced evaporator vent solenoid under Warranty
27905
Emerg Repairs @ GM Garage (Leonardtown, Md), Would not start or shift from Park. Replaced ignition switch & fuel tank pressure sensor, also found left outer tie-rod with excessive play. Replaced tie-rod and performed alignment. Warranty
29372
Replaced faulty Fan Clutch Assy - Warranty 1st occurrence - May 2004, 29372 miles Replaced faulty Fan Clutch Assy - Warranty 2nd occurrence - 32624 miles
49845
Replaced faulty Fan Clutch Assy - Warranty 3rd occurrence, July 2005, 49845 miles. Dealer covered as warranty item due to repeated failures
64967
Replaced Catalytic Converter, Y-Pipe, Gaskets, O2 Sensor & Road Tested - All covered as Warranty Items
79602
US $227
Replace VICM - Updated OnStar.
89805
Emerg Repairs (Brandywine, Md. GM Dealer) - Would not run, Performed Diagnostic & replaced #3 spark plug (cracked). Md dealer reported 1/2 plugs/wires were original, GM Dealer (Pa) absorbed cost
91593
Pa. GM Dealer Installed new Plugs & Wires (from prior svce charged / originally reported as completed but NOT performed)
108978
No Power Controls (Int Lites, Radio, Door, Window, Seat, etc.). Replaced Master Fuse, performed annual state inspection plus routine Lube/Oil/Fltr service.
112051
Replace Blower Motor Resistor, Fixed Air Bag Light (Air Bag Light problem still exists) plus routine Lube/Oil/Fltr service.
118134
Replace A/C Belt & Line, plug Rt front tire plus routine Lube/Oil/Fltr service.
136000
Power steering unit cooler leak, replacement with new cooling unit
138700
hard miss/vac lk suspected - diag, repair air intake cowling, replaced oil press & fuel lvl sensors, replace wtr pump & hose, flush radiator, replace serpentine belts check engine soon light came on again and hard miss from prior visit continued, only worse. dealer now found vac leak in lower intake manifold gasket. dealer replaced gasket.
157000
Replace Rear Pads & one rear rotor, required for state inspection regular customer mechanic and independent alignment shop specialist both advised against additional suspension system repairs as cost would exceed value of vehicle, both advised to retire vehicle. AGREED & purchased replacement vehicle.
2003 GMC Envoy 4dr SUV, ext.
275-horsepower 4.2L I6 4-speed automatic 4WD w/low range
GMC Envoy in Colorado, United States
Jun 2010 - Dec 2012
127000 mi
US $1100
The airbag leveling system was leaking and compressor had to keep filling. Replaced airbags in rear springs. Also replaced front brakepads amd turned rotors during visit.
135000
Heater blower was intermittent. Dealer replaced sensor. Problem reappeared within 2 weeks. Took to dealer again and they stated it was actually heater blower motor - which was replaced and fixed the problem.
2003 GMC Envoy 4dr SUV
275-horsepower 4.2L I6 4-speed automatic RWD
GMC Envoy in Puerto Rico
Mar 2011 - Jun 2013
169000 mi
US $570
The whole front suspension for my Envoy was done for.Only cause for the good of God I survive that week.
175000
trannys 3rd gear went loco on me,mec told me to use it till i get repair money,rebuilt and running, $910.00 somolians cost of repair,ahh,and because im a friend.thank God
189000
just a bad job all together. had to repair a burned out tranny, pump, gears, drums etc, even the torque converter
191300
I repaired that tranny, last year,round may, in march 13, it started leaking tranny oil, end up dropping it and repairing pump,
GMC Envoy in Florida, United States
Feb 2006 - Apr 2011
52500 mi
US $217
Replaced trans cooler line.
92542
Replace instrument cluster
96000
Replaced trans shift cable
97000
replace thermostat
112000
Rotted gas tank, crack was leaking gas. Replaced tank.
GMC Envoy in Michigan, United States
Nov 2008 - Mar 2015
90000 mi
US $100
Bad Thermostat per service engine soon code Water pump bearings making rumbling noise
95000
Water pump bad
114000
Engine light on- replaced gas cap. Replaced 4 sway bar links and 2 tie- rod ends- worn radiator cap leaking- replaced.
129000
Replace both rear axle seals Check engine light on- replaced purge solonoid Grinding noise coming from right front- replaced right front bearing hub
141700
Front wheel bearing making noise- replaced Replaced rear sway bar bushings
2003 GMC Envoy 4dr SUV
275-horsepower 4.2L I6 4-speed automatic 4WD w/low range
GMC Envoy in North Carolina, United States
Mar 2011 - Mar 2015
132000 mi
Viscous fan/clutch assembly replaced – Tech bulletin. I was having problems with AC cooling at stops. Coolant Thermostat and hoses replaced that were needed. The Coolant and needed hoses were replaced at 110,000 as well. Timing chain and entire timing assembly including exhaust valve actuator replaced. Cam position sensor replaced, leaking at the connector. Water pump replaced. Oil pump and pan assemble rebuilt/cleaned. Intake manifold / Mass air flow disassembled cleaned and gaskets replaced, Small gasket leak around coil # 2 was found.
141000
I have had an on-going problem with the communication link for the 4 wheel drive system. It requires a restart to clear. There is a technical bulletin on this as well. Rear glass hatch shocks will need to be replaced soon.
145000
US $150
Upstream O2 sensor was replaced. no code was thrown, replaced on systematic low gas mileage around 13 MPG. Used a scan tool and saw the upstream O2 sensor voltage readings was not moving.
148000
Replaced front struts and rear shocks.
156000
Replaced all rotors, pads and rubber brake lines to include parking brake pads. Replace all brake fluid.
162700
Low pressure cut off switch, recharge.
164000
Compressor electrical clutch failed. Replaced Compressor and Accumulator. Ventilation damper module replaced due to MODE not functioning. Battery replaced with this trip.
169000
Replaced Alternator and serpentine belt. I had a leak within the washer fluid reservoir area. Upon inspection found the Headlight washer pump had a crack at the bottom. At $75.00 replacement,I decided to plug the inlet to the pump and stop the leak, never was used anyway.
GMC Envoy in North Carolina, United States
Jun 2010 - Aug 2012
107000 mi
US $125
replace front wheel bearing,
116500
replace two coils for firing engine
125420
air suspension bag in rear, air compressor motor went out, to expensive to replace right now, fill air bags with inlet in the storage area for jack, I fill to 65 lbs, that will ride for about 2 months, then I have refill
134000
removed cluster panel, install new stepper motors, this was a recall items, but mine started acting up after having to many miles for warranty, or extended warranty on this item got a popping noise in right rear hub, act like something is trying to catch on it and then let go. got to investigate
138000
fan clutch replaced, quit working
140000
replace bad thermostat, replace temperature sensor
142000
power steering pump went out
142300
belt tension started rattling
144000
had to replace the windshield wiper motor
GMC Envoy in Ontario, Canada
Feb 2011 - Aug 2011
101680 mi
C $320
Oxygen sensor one of four not working and replaced.
104160
exhaust manifold cracked and was replaced cooling fan clutch noisy and replaced
105400
Transmission lines rusted out and leaking causing a transmission fault code due to slippage from loss of fluid. New lines installed by dealer & fluid topped up.
GMC Envoy in Washington, United States
Nov 2010 - Sep 2014
88000 mi
US $250
Cruise control works intermittently; repair included placing map sensor; less then two weeks later cruise control still working intermittently; will be taking car back to repair shop in two days
91000
When A/C on, RPM fluctuated. It was diagnosed the throttle body sensor was not working. Replaced with used part (extended warranty did not want to pay for a new part at $322). It appears new part also fixed the cruise control problem.
121000
leak in front differential; then found that bearings needed to be replaced
123300
dash lights very dim and speedometer went crazy. Replaced cluster to fix both problems. Ignition not working on a few occasions. Replaced faulty ignition switch.
131000
replaced right front headlight bulb and connector
GMC Envoy in Quebec, Canada
Jul 2008 - Jul 2013
60760 mi
C $500
speedometer not working properly
80600
air conditioning recharged rear shock absorbers changed
96720
The fuel pump was leaking. Bad fuel smell from the back. Fuel pump was replaced .