2003 Hyundai Elantra Repair Histories
95 TrueDelta members own (or used to own) a 2003 Hyundai Elantra. 48 of these members (50.5%) have reported repairs for their car. A total of 160 repairs to 2003 Hyundai Elantras--an average of 1.7 per vehicle--have been reported.
See our lemon odds and nada odds page to see vehicles with no repairs or vehicles with more than three repairs. To see how frequently 2003 Hyundai Elantra problems occur, check out our car reliability stats.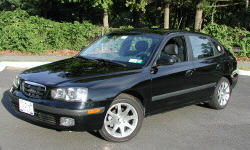 Chart based on 160 repairs.
Chart based on 73 repair trips. The repair cost chart excludes repairs made under warranty, do-it-yourself repairs, and repair trips that include maintenance.
Non-members can see only ten
2003 Hyundai Elantra repair histories
.
Log in
or
join us
to see them all.
2003 Hyundai Elantra
Engine not specified
Hyundai Elantra in Ontario, Canada
Oct 2009 - Jun 2011
124620 mi
C $199
Flex Pipe was damaged. Engine light was on with Error code for SLow response at O2 sensor at lower stream. Hyundai said to replace whole pipe including catalytic converter, too expensive, flex welded at Midas.
134540
Brakes were making noise - took for check up. Needed to replace caliper. Oil was leaking from top of engine (rocker Gasket was leaking.) Cv boot replaced for right side. Master cylinder for brake replaced. Brake fluid Flushed.
2003 Hyundai Elantra 4dr Sedan
135-horsepower 2.0L I4 5-speed manual FWD
Hyundai Elantra in Texas, United States
Dec 2004 - Mar 2010
50000 mi
US $120
Brakes replaced because of the failure of a shim. Shim did not lower braking performance anyway, just made a noise as it slide along the non-friction area of the rotor. Part could not be purchased by itself so a brake job was performed.
113000
Oil Leak.
Hyundai Elantra in North Carolina, United States
Oct 2008 - Dec 2014
57000 mi
US $150
Rear brakes locked as a result of improper bad/caliper alignment. Brake pads replaced as part of repair due to excessive burning.
68000
Locked right rear caliper, followed by a locked left rear caliper. New pads/rotors due to damage from locked rear brakes. Blown right rear strut.
74000
Failed Air Intake Control Valve (AICV). Vehicle would shut down after two minutes at idle. Difficult to diagnose for technician--no codes. Part not in stock. Parking brake cables had been binding and rear brakes would remain locked. Obtained new cables for both rear disc brakes. Removed center console and rear wheels to facilitate repair.
Hyundai Elantra in Indiana, United States
May 2008 - Jun 2011
50000 mi
US $539
brakes failed while driving to Chicago. pedal went to floor. Hyundai said 2 back wheel cylinders need to be replaced, and a "flush". brakes were spongy and failed again brake pedal all the way to floor took car to local hyundai shop (indiana) claimed no problem found! Shop bled brakes 3 times drove it 32 miles, put $20 gas in tank, and I paid $62 for second time in shop.
57000
last year Stephens Hyundai told me "could not detect problem" rarely drove the car for over a year. Brakes squish, & when braking from 55mph, severe vibration. took for alignment but mechanic said not alignment problem New rotors on front fixed prob problem with clutch pedal too high, clutch slow to engage - Stephens Hyundai told me "no problem existed" Friend told me clutch needs replaced soon, common probl in this year and make
2003 Hyundai Elantra 4dr Sedan
135-horsepower 2.0L I4 4-speed automatic FWD
Hyundai Elantra in Illinois, United States
May 2006 - Dec 2014
28000 mi
Windshield wipers stopped. The wiper motors burned out. Warranty service replaced the wiper motors and fixed them free including parts and labor.
41425
Check engine light with code P0455 Evaporative Emission Control - Purge valve fault. Purge valve is replaced under the warranty.
51000
Moonroof made rattling noises when closed. I re-tightened the screws and the noises are gone.
68000
US $50
Whirling sound from front axle when fully steered. Diagnosed as a worn high-pressure power-steering hose. Replaced and the noise is gone.
75000
E-Brake cable rusted and snapped. Rear calipers were damaged as I've ignored the symptom for two winters. Rear calipers and e-brake cables were replaced.
88000
Two catalysts toasted. Removed the first and replaced the second with aftermarket Noticed CV joint leaking 4 years ago and finally they are gone and replaced with reconditioned.
97000
A damper pulley was cracked and replaced Front lower arms Front stabilizer links
100000
Strut mount cracked. Replaced front struts. (the whole strut)
Hyundai Elantra in Texas, United States
Jan 2009 - Feb 2009
105000 mi
US $960
Oil leak. Electrical system issues randomly prevented car from starting. Fixed.
Hyundai Elantra in Wisconsin, United States
Oct 2004 - Aug 2012
12000 mi
Fuel Pressure Regulator replacement. Replaced under warranty.
20000
Fuel Pressure Regulator replacement. Dealer replaced as a precaution, I had not experienced any problems. Replaced under warranty.
69000
US $150
Replace MAP sensor.
91000
Replaced Canister Purge Solenoid (for P0441)
Hyundai Elantra in California, United States
May 2008 - Feb 2009
61000 mi
US $500
AC went out, turned out that the car was running hot which caused the computer to turn off the AC. Replaced thermostat, upper and lower hoses, added coolant and recharged AC.
65000
Drivers side CV axle boot was torn, entire axle was replaced.
65000
needed paint (oxidized) Door locks broke. Also needed $800 60k service. Sold car because couldn't afford repairs.
2003 Hyundai Elantra 4dr Hatch
135-horsepower 2.0L I4 5-speed manual FWD
Hyundai Elantra in Virginia, United States
May 2003 - Jun 2011
150 mi
Coolant hose re-attached (leaked, overheated) and sunroof rails lubricated (noisy).
6000
Shift knob replaced. (Peeling)
39000
Axle seals replaced (leaking).
58000
Passenger vanity mirror cover replaced (broke).
59000
Rear wiper bolt trim cover replaced (fell off).
62000
Transmission rebuilt (input bearing noisy)
85000
Valve cover gasket oil leak (minor).
90000
US $400
CV Boot replaced.
96000
Radiator cracked catastrophically.
Hyundai Elantra in Ontario, Canada
Oct 2003 - May 2013
54560 mi
Issue with shifting reported. Clutch assembly replaced under 30day warranty. Transmission still has synchro issue - not dealt with.
55180
Transmission axle seal leaking after clutch replacement. Seal replaced under warranty.
60140
C $350
Timing belt and water pump change. Sparkplugs and coolant.
69440
engine would not fire, but would crank over. Ground issue with coilpacks. Cleaned contacts and re-ran battery ground
73160
investigating standing water in spare tire well and hatch wheel well. Re-applied hatch seal with silicone.
Found leak in body panel seam above hatch. Added rocker guard paint over seam gap.
88040
Lower control arm bushings replaced along with mod of strut/springs. At the time rotors and pads installed on front.
109120
Passenger-side Tie Rod End loose, replaced. Also changed driver side. Valve cover gasket leaking.
111600
rear engine mount torn
125240
radiator leaking at top, small leak. replaced radiator and fluid
150040
Drove through standing water, shorted out alternator. Was suspecting alternator failing before. Replaced alternator
167400
CV boots broke, axles worn. Control arms rotted, engine subframe bolts broken.