2004 Hyundai Sonata Problems and Repair Histories
67 TrueDelta members own a 2004 Hyundai Sonata. 22 of these members (32.8%) have reported repairs for their car. A total of 51 repairs to 2004 Hyundai Sonatas--an average of 0.8 per vehicle--have been reported.
See our lemon odds and nada odds page for more details. To see how frequently 2004 Hyundai Sonata problems occur, check out our car reliability stats.
Want to read about specific problems behind these stats? Jump to the 2004 Hyundai Sonata problem descriptions below.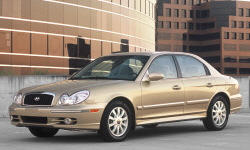 Don't infer 2004 Hyundai Sonata problem frequency from what you see on this page. Many lucky owners have had no repairs, and their cars are not shown.
Select a problem area
35% of the 2004 Hyundai Sonata repairs were to the engine, 6% to the transmission, 16% to the brakes, 12% to the suspension, 27% to the electrical or air-conditioning systems, 2% to the body and trim, and 2% to other areas of the vehicle.
Chart based on 51 repairs.
Of the 2004 Hyundai Sonata repairs that were not covered by warranty and were not do-it-yourself repairs, 10% cost less than $100, 38% between $100 and $499, 48% between $500 and $999, and 5% between $1000 and $2499.
Chart based on 21 repair trips. The repair cost chart excludes repairs made under warranty, do-it-yourself repairs, and repair trips that include maintenance.
Non-members can see only ten
2004 Hyundai Sonata problems and repair histories
.
Log in
or
join us
to see them all.
Repair costs are in local units.
2004 Hyundai Sonata 4dr Sedan
170-horsepower 2.7L V6 4-speed shiftable automatic FWD
Hyundai Sonata in Colorado, United States
Date
Odometer
(in miles)
Cost
Problem/Repair Description
Feb 2011
47000
55000
80
speedo & c.control worked intermittently.replaced vehicle speed sensor
63000
0
Door locks not working electricly(to unlock,locking worked O.K.)The lights flash and I could hear the lock relay click,but no action.Solution;the door lock relays are located behind the fuse block by drivers seat.R&R the relay,clean contact.
73000
Hyundai Sonata in Florida, United States
Date
Odometer
(in miles)
Cost
Problem/Repair Description
Mar 2010
107000
151000
0
Paint on door handles peeled
152000
Hyundai Sonata in Massachusetts, United States
Date
Odometer
(in miles)
Cost
Problem/Repair Description
Mar 2010
115000
116000
0
Rear passenger brake backing plate totally rusted and was rubbing on rotor. So I removed the portion of the backing plate that was rubbing, since it was rusted through it came off easily. ASked the dealer to look at this 20K miles ago.
150000
0
tape deck won't accept a tape cartridge
156000
116
Check engine light, scan code showed both oxygen sensors faulty. replaced both sensors.(sensors 1 on banks 1&2)
161000
700
rear shock leaking, had to change the struts and do a four wheel alignment.
170000
0
Single stoke windshield wiper button doesnot work anymore. Alos the car self loks the doors . Like it's haunted.
176000
Hyundai Sonata in Ontario, Canada
Date
Odometer
(in miles)
Cost
Problem/Repair Description
0
Replace fuel sending unit
0
Replace rear sway bar bushings due to loud squeeking noise.
62000
1
Hyundai Sonata in New Jersey, United States
Date
Odometer
(in miles)
Cost
Problem/Repair Description
Nov 2010
164000
170000
220
coolant replaced and AC charged found leak in compressor. estimate $1,400 debating whether it is worth to get it done with the high mileage.
178000
1000
Total AC assembly with timing belt kit and water pump replaced
179000
235
Passenger side fan was replaced for $235 by Craig Radiator
187000
550
Replaced front and rear brakes with rotors
192000
2004 Hyundai Sonata 4dr Sedan
138-horsepower 2.4L I4 4-speed shiftable automatic FWD
Hyundai Sonata in California, United States
Date
Odometer
(in miles)
Cost
Problem/Repair Description
Jun 2011
56000
62000
0
Serpentine belt and tensioner replacement.
69000
0
CEL for unknown reason. Reset with no ill effects.
70000
0
Driver's side headlight failed- again.
79000
Hyundai Sonata in Arizona, United States
Date
Odometer
(in miles)
Cost
Problem/Repair Description
May 2009
62000
69000
99
Check engine light reading indicates 'Crankshaft Position sensor not working.'
71000
846
Front Passenger side Engine mount worn out and replaced
Hyundai Sonata in California, United States
Date
Odometer
(in miles)
Cost
Problem/Repair Description
Feb 2010
58000
60700
256
Auto car button in driver door panel shorted out and locks would only lock, not open with the FOB or button inside the car.
69500
20
Drivers side headlight burnt out and owners manual states to remove the headlight assembly to replace bulb. The repair was quite easy with the right tools, but took almost an hour.
94000
Hyundai Sonata in British Columbia, Canada
Date
Odometer
(in miles)
Cost
Problem/Repair Description
Apr 2009
17980
19220
0
Windshield Wipers stalling after a few seconds of use
30380
Hyundai Sonata in Oklahoma, United States
Date
Odometer
(in miles)
Cost
Problem/Repair Description
Aug 2010
97000
99000
305
Front axle was replaced again. Front axle had been replaced less than a year before by dealer. Very unhappy with dealer. Everytime I take my car to the dealer--they have my car for 2 weeks to a month and the car returns with same problem.
108000
30
Car overheating due to faulty thermostat. Replaced thermostat
109500
520
Car was running very rough. Had 2 bad coils replaced in engine. This had been taken to the dealer previously but they did not diagnose the problem. They fixed sensors and not what was causing the sensors to malfunction.
118300
565
Car was using oil. Replaced valve cover gasket, oil pressure switch. Power steering hose was leaking. Replaced power steering pressure hose