2007 Kia Sedona Repair Histories
47 TrueDelta members own (or used to own) a 2007 Kia Sedona. 23 of these members (48.9%) have reported repairs for their car. A total of 81 repairs to 2007 Kia Sedonas--an average of 1.7 per vehicle--have been reported.
See our lemon odds and nada odds page to see vehicles with no repairs or vehicles with more than three repairs. To see how frequently 2007 Kia Sedona problems occur, check out our car reliability stats.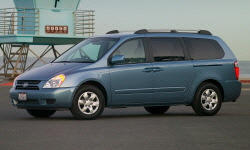 Select a problem area
Need advice about a specific car problem?
Chart based on 81 repairs.
Chart based on 14 repair trips. The repair cost chart excludes repairs made under warranty, do-it-yourself repairs, and repair trips that include maintenance.
2007 Kia Sedona 4dr Minivan, ext.
250-horsepower 3.8L V6 5-speed shiftable automatic FWD
Kia Sedona in Colorado, United States
Jun 2009 - Mar 2015
56000 mi
Driver's seat moves slightly under heavy braking, front to back but on a diagonal (front left to rear right). Very minor, total movement probably less than 1 inch. Dealer ordered new seat rail.
68000
US $240
Driver side sliding door actuator replaced; was unable to lock vehicle and receive confirmation from horn (on double clicking the lock button on keyfob). Diagnosed as faulty actuator.
81000
both front sway bar links replaced to fix knocking/clunking sound from front end, evident when traveling over bumps/potholes etc at low speeds. Driver side sliding door, lock actuator failed, door could not be locked with the remote unless switch was manually moved to the lock position. Door lock actuator replaced ($270)
93700
Car began running very roughly, similar to when an ignition coil pack fails. CEL on. Towed to dealer, diagnosed as oil control valve (left).
Kia Sedona in Illinois, United States
Jul 2009 - Mar 2015
56000 mi
Chattering idler pulley
59000
Defective brake light switch, replaced under warranty.
78000
US $400
Check engine light on, bad oxygen sensor replaced.
84000
Airbag light on, did not throw trouble code. Reset light but light on next day. Replaced airbag control module.
110000
Check engine light on, code reported lean mixture, mechanic replaced cracked air intake duct, problem resolved, which also fixed slight hesitation problem
115000
Engine would suddenly drop to idle and "limp home" mode, diagnosed and replaced bad throttle position sensor, reflash ECM due to revised part.
126000
Brake pedal was soft with excessive travel. Replaced read pads and rotors and added brake fluid which resolved the problem.
Kia Sedona in North Carolina, United States
Sep 2007 - Jun 2010
24000 mi
Second row seat would not spring forward to allow easy access to third row seat on the driver side
Kia Sedona in Missouri, United States
Jul 2010 - Dec 2013
67500 mi
Dealer fixed idler pulley as condition of sale.
Kia Sedona in Pennsylvania, United States
Jun 2008 - Mar 2015
33000 mi
US $40
Drivers Side (L) sliding door would not unlatch, even after numerous attempts at locking and unlocking door. Adjusted emergency brake cable as it was not tight enough to prevent car from rolling. $40 out of pocket.
35000
During towing up hills air conditioning did not work. Drained and recharged freon and lubricant.
37864
Compressor replaced under warranty. Sounded like rod knock when compressor was running. Suspect this was a factory recall. I asked about this last spring. This is not unique to my vehicle. Had a rental van that did this also. Was in for oil change.
49000
Starter motor needed to be replaced
56700
Jan 5,2012 Wife could not get key out of ignition. Took car to dealer. Dearler found interlock linkage defective, adjusted and ordered new part. Installed new ignition linkage part.
58000
Engine made a weird noise on start up and ran very high rpm. Resarted and ok. Took to dealership. Replaced TPS and flashed computor. OK.
63000
Bezel for overhead console disintegrated and conversation mirror fell out. Took to dealership the order part and fixed when it came in.
68700
Right left turn signal was working intermittently. Checked light bulb and it was OK. Quit working several days later. Took apart Sat. 20th and replaced bulb. Worked , then became dim and quit. Took out the socket and called dealership.
77000
Got new tires Tues Nov 28. Tire dealer stated rt. inner and outer tie rod ends loose. took to dealer Wed Dec 4. They ordered parts + left anti sway bar link. Fixed Dec 18.
88000
Car ran down, would not start or run long. Towed to dealer. Alternator dead because valve cover was leaking oil on alternator. Replaced valve covers and alternator. I had to replace battery at my cost. 2-year bat 3-years old.
89000
My wife found brake pedal went to floor after shipping.No puddle of fluid. Drove home slowly. I found front left brake hose ruptured. Replaced with another I had bought to send to Classic Tube to use as pattern for Stainless braided brakes
Kia Sedona in Illinois, United States
Apr 2009 - Mar 2015
13000 mi
replacement of brake caliper
25000
Throttle position sensor replaced under warranty. Rear door seal recall performed Front sway bar links replaced under warranty.
Kia Sedona in Arizona, United States
Mar 2007 - Mar 2015
6000 mi
05NOV07 CEL came on so took directly to dealer and dropped off. Same day 'repair'; dealer maintenance shop reset CEL light, ordered new O2 sensor, and performed 5K oil change and service. Still awaiting dealer to call and say part has been received.
6000
O2 sensor was ordered in November 2007 and arrived in December 2007. Dropped off car 0700 A.M. and ready for pickup by noon. Also discovered a squeak in drivers door when opened; caused by a loose bolt. Dealer tighted bolt and resolved squeaking.
30000
Drivers side rear passenger power door was binding when attempting to open the door. Dealer ordered & replaced sliding door motor actuator per TSB BOD048. Alarm horn had been sounding weak after a FOB had been reprogrammed for the van. Dealer tested and had alarm horn replaced. Day later, alarm and panic horn are not working. Will be returning van to the shop for further diagnosis & repair.
49000
Passenger side rear power door was not opening/closing using FOB/main/door button. Manual operation of door was difficult as well. Dealer had door actuator motor replaced and door alignment performed. Suspension would groan/squeak when turning or driving over small bumps. Dealer verified noises and replaced torn lower control arm bushings.
61000
US $140
Car died while idling in park gear. Towed to dealer who determined the alternator was kaput. R&R w/an aftermarket alternator and paid for new battery the old alt killed since it's considered a 'wear' item! Tech also discovered a front valve cover oil leak for R&R and recommends belt tensioner be replaced as well. Parts need to be ordered and R&R under warranty too.
61700
Parts are in; R&R of seals for valve cover oil leak, new belt tensioner installed as well. Parts ordered and R&R covered by extended warranty.
74000
MIL cluster came on while driving; pulled over and shut off engine but car would not start again. Towed to dealer who determined the alternator (replaced in 2013) was faulty. Replaced under extended warranty plan. Kia battery was fried by faulty alternator. Although the battery was new when replaced in 2013, it only had a 18-mon warranty which was missed by days. The new Kia replacement battery was pro-rated for 70% and only has a 12-mon warranty. Noted oil stains on alternator housing; inspection showed l/valve cover gasket was leaking again. Replaced gasket under warranty.
Kia Sedona in Michigan, United States
Oct 2007 - Jul 2008
Airbag system repaired under warranty
Kia Sedona in Pennsylvania, United States
Apr 2008 - Mar 2010
8000 mi
The brakes were squeaky & sounded like metal on metal. Dealer said the rotors were warped from over heating in the brake area. He said this is not uncommon. The rotors were cut, etc... at no charge and havent had any problems since.(keeping fingers cross)
Kia Sedona in Kentucky, United States
Feb 2007 - Mar 2010
1000 mi
Power right side passenger door made grinding noise and would not close without assistance. Service said track was bent (how?) and would need several days to replace but mechanic pried it back straight and now it works fine.
11000
Replaced bushings in subframe. ESC light coming on; replaced faulty brake switch.