2007 Saturn VUE Repair Histories
114 TrueDelta members own (or used to own) a 2007 Saturn VUE. 62 of these members (54.4%) have reported repairs for their car. A total of 216 repairs to 2007 Saturn VUEs--an average of 1.9 per vehicle--have been reported.
See our lemon odds and nada odds page to see vehicles with no repairs or vehicles with more than three repairs. To see how frequently 2007 Saturn VUE problems occur, check out our car reliability stats.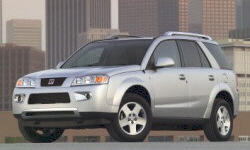 Select a problem area
Need advice about a specific car problem?
Chart based on 216 repairs.
Chart based on 69 repair trips. The repair cost chart excludes repairs made under warranty, do-it-yourself repairs, and repair trips that include maintenance.
2007 Saturn VUE 4dr SUV
248-horsepower 3.5L V6 5-speed automatic FWD
Saturn VUE in New York, United States
Feb 2007 - Mar 2015
3000 mi
Check Engine Light - displaying history of possible loose gas cap.
8000
Check engine light - displaying history of possible loose gas cap. Turned out to be a loose hose.
21000
US $37
'Evap Fuel Sys' fault code - replaced gas cap.
28000
Bad left front wheel bearing Replaced left front wheel bearing
66000
R&R Left Front Hub Assy.
82000
Replaced Battery
2007 Saturn VUE 4dr SUV
248-horsepower 3.5L V6 5-speed automatic AWD
Saturn VUE in Pennsylvania, United States
Aug 2007 - Mar 2010
4000 mi
Replace brake light switch. Brakes seem not to release after extended use.
24000
US $89
brakes, front today. heard rubbing noise and the shoes were real close.
Saturn VUE in Saskatchewan, Canada
Feb 2007 - Sep 2009
11656 mi
Noticed rattle under dash. Took to dealer for annual service, oil change etc. and had them check the rattle. You could only hear if you REALLY listened on a wash board road. Dealer checked out and found a faulty intermediate steering link at
13640
Dealer replaced complete steering column under factory warrenty. Rattle under dash. Fixed it this time, no more rattle!!
32240
Extreme wind noise from front windshield. Had windshield replaced in summer. Top seal had shrunk ? Replaced top seal and re-sealed entire windshield. Probelm better but still wind noise from front.
Saturn VUE in Washington, United States
Feb 2007 - Mar 2015
5000 mi
Ignition key would stick/bind when turing on/off - intermittent
Saturn VUE in Washington, United States
Feb 2007 - Mar 2010
11000 mi
motor for rear window windshield wiper replaced front middle console warped panels replaced
2007 Saturn VUE 4dr SUV
170-horsepower 2.4L I4 Hybrid 4-speed automatic FWD
Saturn VUE in Minnesota, United States
Nov 2007 - Mar 2015
11000 mi
Hybrid battery was leaking and as a result the hybrid system had become erratic. gas gauge malfunctioned. Sensor replaced. Could have been malicious fuel siphoning- problem corrected.
35000
Front idler arm bushing. Was rattling. Also door trim - very minor leak.
35000
Weatherstrip on driver side door developed very slight leak. Front stabilizer link had a bad bushing. Saturn will fix anything on warranty these days no matter if it is broken or not.
34000
Heater control switch started clicking very softly. We forced an investigation and they fixed it on warranty. End of warranty, tires and brakes good- this car has been very good. Better than my Honda Civic 2008.
54000
US $440
Belt tensioner and fan belt. Tensioner was loosing ground but could have gone many more miles. Belt replaced as an efficiency -but was not worn.
79700
Error code b0062 - not corrected this trip. Seat belt sensor.
89000
Caliper stuck on one wheel. Replaced.
90000
Brake caliper sticking. Repaired other side (first caliper replaced in June) and replaced hoses and fluid. Problem has now been corrected. Probably the hoses all along- mechanic not sure if calipers needed to be replaced.
104000
Front left Speed sensor. Could not remove - had to replace entire wheel bearing assembly.
Saturn VUE in Texas, United States
Aug 2007 - Apr 2014
15000 mi
Sensor and hood latch After last engine software upgrade, I can run at high speed on highway for a while, then come off the expressway and Hybrid engine dies instead of just going to 'idle' stop. Mechanic was unable to recreate the problem but it has happened to me at least 6
19000
Hybrid 2007 Vue hood latch is out of stock. Previous repair personnel did not follow up at the factory. This time they called up several levels trying to get authorization to have a part manufactured. New Vue has different part!!! Campaign notification on 2 problems. One involves the battery system on the hybrid not charging properly. To repair they went over the entire charging system making some modifications and updated software. All done under warranty but takes 2 days at shop.
19875
US $132
The hood latch was finally replaced so that the car could get inspected. Apparently GM had to have several of these manufactured since the 2008's VUE has a different part. The annoying part was while the hood latch did not work the Hybrid was disabled.
37700
2007 Saturn Vue Hybrid had to have complete new air conditioning compressor and 'parts'. It took 4 days for GM to authorize this repair and another 4 days to get the parts.
39000
Car would not start. Car battery seemed to be the problem because after sitting for a while, it would start but Battery light was on. Alternator replaced, car battery and 3 hybrid batteries replaced.
43000
Check Engine light was on. Cylinder two was misfiring. Martin Cadillac said 5 days to get parts. I expressed my displeasure since 2 previous trips took over 10 day to get parts. Ignition coil, spark plugs replaced using non GM parts.
52500
Replaced the ignition key hole. It was jamming like so many other Saturns.
55000
Ignition key lockset jammed and had to be entirely replaced.
56700
Intermittent engine hiccups. Root cause loose ground wire on AC caused electrical system intermittent failure when A/C cut in.
59000
Key jammed in ignition for the second time in the last 6 months.
2007 Saturn VUE 4dr SUV
143-horsepower 2.2L I4 5-speed manual FWD
Saturn VUE in Ontario, Canada
May 2007 - Mar 2015
10540 mi
Sticking ignition switch, cleaned and lubed.
18600
Front sway bar end links clunking.
29760
Noisy upper strut bearings, dealer lubed per direction from GM. Noise is back after 4 days...
34720
Driver side wheel bearing replaced. Replaced strut mounts.
35340
Rust spot on rear hatch, near chrome handle.
35960
passenger side wheel bearing, noisy, replaced under warranty
58860
Front left wheel bearing hub assembly replaced.
72540
Front wheel bearing Front sway bar links clunking. Dealer offered to repair for 400$, which I declined. Not covered under warranty.
77880
Front right wheel hub. Bearing noisy.
79980
Noisy front wheel hub (left front). Dealer said it was tire wear. Not repaired. Still noisy.
84320
C $800
Rear main seal leaking after clutch install, roughly 20 drops a day.
92380
Brakes replaced drums, the new ones were warped out of the box. Replaced with Raybestos drums.
106640
Replaced both a-arms (one of the a arm bushings was bad). Both a-arms came with new ball joints. Replaced front sway bar links. Replaced brake pads and discs. Replaced spark plugs (but originals were still fine).
2007 Saturn VUE 4dr SUV
143-horsepower 2.2L I4 4-speed automatic FWD
Saturn VUE in Texas, United States
Feb 2007 - Apr 2009
4000 mi
ignition was catching making it difficult to turn the key in the ingnition to start vehicle. Parts were in house. I came the next day and problem was fixed in approx. 4 hours. No charge to me, under factory warranty.
17000
LUBED IGNITION SWITCH-07/2008
21000
Vehicle security sys. to open doors was operating ineffectively. Key-fob was mal-functioning. Under warranty, new key fob programmed. works great.
22000
Two of the five push buttons on radio did not program radio stations. Radio was under new car warranty and replaced with a new unit.
2007 Saturn VUE 4-door
6-cylinder automatic AWD
Saturn in Ontario, Canada
Feb 2007 - Mar 2010
5580 mi
There is an unnerving regular vibration/humming emanating from the rear wheelwells. It got to be so bad that if the rear windows were opening, it caused discomfort in the passengers and drivers ears. It could also be heard (but less) when the windows we