Scion xB Problems and Repair Histories
525 TrueDelta members own a 2000 or newer Scion xB. 151 of these members (28.8%) have reported repairs for their car. A total of 252 repairs to Scion xBs--an average of 0.5 per vehicle--have been reported.
See our lemon odds and nada odds page for more details. To see how frequently Scion xB problems occur, check out our car reliability stats.
Want to read about specific problems behind these stats? Jump to the Scion xB problem descriptions below.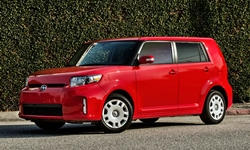 Don't infer Scion xB problem frequency from what you see on this page. Many lucky owners have had no repairs, and their cars are not shown.
Select a problem area
35% of the Scion xB repairs were to the engine, 5% to the transmission, 12% to the brakes, 8% to the suspension, 16% to the electrical or air-conditioning systems, 13% to the body and trim, and 11% to other areas of the vehicle.
Chart based on 252 repairs.
Of the Scion xB repairs that were not covered by warranty and were not do-it-yourself repairs, 21% cost less than $100, 56% between $100 and $499, 11% between $500 and $999, 10% between $1000 and $2499, and 2% more than $2500.
Chart based on 101 repair trips. The repair cost chart excludes repairs made under warranty, do-it-yourself repairs, and repair trips that include maintenance.
Non-members can see only ten
Scion xB problems and repair histories
.
Log in
or
join us
to see them all.
Repair costs are in local units.
2008 Scion xB 4dr Hatch
158-horsepower 2.4L I4 5-speed manual FWD
Scion xB in Ohio, United States
Date
Odometer
(in miles)
Cost
Problem/Repair Description
Sep 2007
0
1000
0
The 2-piece plastic sill between the hood and the windshield did not fit properly at their joint(one piece was raised 1/4"). Dealer ordered new parts and replaced. No charge, problem fixed, has not reoccured.
13000
0
The problem from September/07, The 2-piece plastic sill between the hood and the windshield not fitting properly, reemerged. However, rather than replacing the bad piece as was done in September, the dealer said it was now 'a design defect'. Paint melted on a spot on the hood. Was told it was due to tree sap and they would not repair. Shop agreed we should look out for tree sap falling on our head and melting skull - true response. Water dispenser for back windshield wiper now drips more than it sprays, as it had done correctly when first purchased. Told they tried to clean with pin and then that is was within specs to drip. Engine running rougher than had been, whether in idle or neutral. Small revs of engine to increase RPM did not remove problem. Was told it only ran rough when AC on and not when it was off. Car runs rough in both cases, more when AC on. When first bought, car on a driveway with minimum drainage slope did not move when in 1st and with parking brake off (suggested solution from dealer for problem with parking brake not releasing completely). NOW it rolls back, stops, rolls again, etc. Found snag on front passenger seat cover. Not sure whether present when bought car or occurred later. Dealer bought new seat cover to replace one with snag.
29000
52
problem: whining noise from the engine compartment. At previous oil change in May/09, dealer claimed could not detect the problem. At this oil change (oct/09), Dealer acknowledged problem. Dealer oiled a belt. Problem returned 6 hours later. Clutch appears to be slipping in 3-5 gears, especially going up hill. Dealer could not detect, and did not inspect clutch. Dealer said tires tread gone and that was the slipping. Latter may be true, but I KNOW what a clutch slips is vs. a tire slip.
33000
0
All indicator lights went on simultaneously and stayed on. TSB indicating loose/broken wire to the ABS system. I was told ABS might go out but that regular brakes would continue to work. ABS never went out. They replaced ABS hub and sensor wire.
56500
800
Caliper slider froze up on rear wheels, burning the brake rotors
58000
0
The ABS sensor went out on left/front, shutting down ABS and anti-skid controls. Decided to not have repaired at this time due to cost (est. $600.00). Found out that dashboard display will NOT show ABS is out if it is out longer than a day!
69000
60
dealer said water pump as getting ready to go, due to white streaks seen on underside of hood above pump. However, after I removed the streak, it has yet to return and the pump continues to work as of Jan. 15, 2013.
76000
Scion xB in Pennsylvania, United States
Date
Odometer
(in miles)
Cost
Problem/Repair Description
Oct 2007
1000
1000
0
Parking brake cable had way too much play in it, making the handle very loose.
61000
65
Water pump leak, pump was replaced under an extended warranty I bought at inception.
73000
2008 Scion xB 4dr Hatch
158-horsepower 2.4L I4 4-speed shiftable automatic FWD
Scion xB in Pennsylvania, United States
Date
Odometer
(in miles)
Cost
Problem/Repair Description
Aug 2007
1000
3000
0
License plate attached by only 2 screws at top of plate. Plate cut through the paint because it banged into the body of the car whenever the rear hatch was closed. License plate needs a better way to both secure it and keep it from touching the car bod
5000
0
license plate only attached by 2 screws at top. Metal plate banged into body when hatch was closed. Plate cut through paint. Dealer repainted the area and put foam tape on back of plate to keep it from hitting the body of the car.
24000
0
air conditioning repeatedly lost cooling gas.
53000
2008 Scion xB 4-door
4-cylinder manual 2WD
Scion xB in Illinois, United States
Date
Odometer
(in miles)
Cost
Problem/Repair Description
Sep 2007
4000
5000
0
body seam rubbing together during acceleration, stopping, and turning. located on the drivers side where the dash meets the a pillar
2006 Scion xB 4dr Hatch
103-horsepower 1.5L I4 5-speed manual FWD
Scion xB in North Carolina, United States
Date
Odometer
(in miles)
Cost
Problem/Repair Description
Aug 2007
24000
27000
0
The car hesitates when shifting to 3rd gear (manual transmission). Doesn't happen all the time...dealer could not duplicate. Radio stations advance/tune when not being touched. Happens mostly while car is warming up (either at standstill or whiel moving). Dealer could not duplicate because car had been driven and warmed.
32000
0
Did research of TSBs for Scion and found issue relating to radio changing stations by itself. Brought to dealer who ordered new radio and replaced. Problem resolved
34000
0
Front drivers-side wheel "groans" when turning sharp left. Dealer unable to duplicate. Sound occurs once almost every day.
65000
880
Check engine light, VSC and TRAC OFF button illuminated. Strong fuel smell coming from car. Shop diagnosed error codes related to evap system. Found water in fuel line. Cleared water and error codes. All systems working. Same problem as previous trip to non-dealer repair shop. Dealer diagnosed broken fuel neck pipe, ordered part and installed to correct problem. Fuel filler neck replaced to fix leak. Charcoal canister failed also and was replaced for a total repair cost of ~$800. I have contact Scion Customer Experience and requested refund of repair costs. Known problem and 3rd canister in 3 years.
Scion xB in Indiana, United States
Date
Odometer
(in miles)
Cost
Problem/Repair Description
Sep 2007
24000
25000
0
Had horrible rattle in dash that had been looked at before by a Toyota dealer. Took it to a certified Scion dealership and entire dash was removed, padded and replaced. Problem seems ok at this point in time.
112000