GMC Acadia Problems and Repair Histories
499 TrueDelta members own a 2000 or newer GMC Acadia. 257 of these members (51.5%) have reported repairs for their car. A total of 929 repairs to GMC Acadias--an average of 1.9 per vehicle--have been reported.
See our lemon odds and nada odds page for more details. To see how frequently GMC Acadia problems occur, check out our car reliability stats.
Want to read about specific problems behind these stats? Jump to the GMC Acadia problem descriptions below.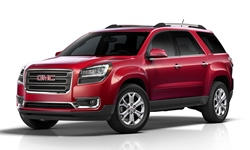 Don't infer GMC Acadia problem frequency from what you see on this page. Many lucky owners have had no repairs, and their cars are not shown.
Select a problem area
19% of the GMC Acadia repairs were to the engine, 9% to the transmission, 6% to the brakes, 19% to the suspension, 25% to the electrical or air-conditioning systems, 11% to the body and trim, and 11% to other areas of the vehicle.
Chart based on 929 repairs.
Of the GMC Acadia repairs that were not covered by warranty and were not do-it-yourself repairs, 11% cost less than $100, 48% between $100 and $499, 28% between $500 and $999, 7% between $1000 and $2499, and 6% more than $2500.
Chart based on 107 repair trips. The repair cost chart excludes repairs made under warranty, do-it-yourself repairs, and repair trips that include maintenance.
Non-members can see only ten
GMC Acadia problems and repair histories
.
Log in
or
join us
to see them all.
Repair costs are in local units.
2007 GMC Acadia 4dr SUV
275-horsepower 3.6L V6 6-speed shiftable automatic FWD
GMC Acadia in Florida, United States
Date
Odometer
(in miles)
Cost
Problem/Repair Description
Jan 2007
0
1000
0
had them try to fix NAV/HUD display problem and they could not--factory trying to determine fix
8000
0
Reprogrammed nav.
13000
0
Popping noise in front end. Mechanic determined the strut bushings needed to be replaced. This was a known problem. Parts ordered. Loose seal around rear driver's side door. Crackling audio speaker.
15000
0
Strut bushings came in and dealer fixed (I hope)
21000
0
Loose seal around left rear door. Crackling speakers.
22000
0
Replaced seal around rear driver's side door.
GMC Acadia in Virginia, United States
Date
Odometer
(in miles)
Cost
Problem/Repair Description
Jan 2007
0
2000
0
Left trailer turn signal fuse blown (open circuit)--replaced fuse Navigation system is inaccurate by approximately 3 football fields (900 feet). For example, destination address input at 110 Any Street directs driver to address at 144 Any Street. Directed to address on other side of street. Asked to have dealer recali HID headlights were aimed too high causing other drivers to flash their headlights (or worse!!). Dealer adjusted headlights and corrected problem
4000
0
Navigation system still inaccurate--dealer and GM Nav Center, and GM Customer Assistance Center all agree that Navigation system only gives "approximate" directions to destination by design. It is a software design issue since GMC Acadia, my BMW and my A
15000
0
Power steering pump vibration and noise--replaced power steering pump.
42000
100
water pump leaking--replaced power steering pump noise - replaced pump
44500
100
Whining noise at low rpms, esp when turning--replaced steering gear--noise gone.
46000
0
timing chain stretched. timing chain replaced
46700
0
A/C leaking--replaced o-ring and recharged
74000
GMC Acadia in Florida, United States
Date
Odometer
(in miles)
Cost
Problem/Repair Description
Jan 2007
0
1000
0
Leaking transmission fluid Repaired leak where transmission housing joins engine. Completed repairs of transmission leak
3000
0
Battery discharges when car is towed behind a motorhome, even though the procedure outlined in the "Recreational Towing" instructions in the owner manual says it will not. Dealer consulted with factory tech support and learned that this is a known problem
3000
0
GMC issued a TSB changing the procedure for dinghy (recreational vehicle)towing and declared the problem resolved. I obtained a copy of the TSB online, so did not have to visit a dealer to learn of the revised procedure. Check engine light on - diagnosed as a faulty emissions control cannister in fuel tank. Parts ordered and follow-up appointment made. Fuel tank removed and replacement emissions control cannister installed in fuel system.
5000
0
Check engine light on - problem with gas tank vapor recovery system. Diagnosed as bad valve in vapor recovery system, but this is same problem previously "fixed" with replacement of emissions vapor cannister months previously.
6000
0
A part previously ordered - a control valve in the evaporative emmisions system was installed, completing the repair of the item intially reported in November.
16000
0
Voltmeter, temperature and fuel gauge lights went out - gauge could not be read in the dark New instrument display panel installed but it too was defective, though with a different problem. Yet another instrument panel will be ordered.
16000
0
Instrument cluster was replaced and re-programmed.
24000
140
Have had wheel alignment problems since new. This time the shop altered the suspension to correct a problem for which the factory had not provided any means of adjustment. Have ruined two sets of tires on this car due to the inability to properly align
78500
1071
Body Control Module (a computer module) and main power distribution center (fuse and relay panel) inexplicably burned out and required replacement. Car was running and would not shut off, even with key removed!
80000
2007 GMC Acadia 4dr SUV
275-horsepower 3.6L V6 6-speed shiftable automatic AWD
GMC Acadia in Ohio, United States
Date
Odometer
(in miles)
Cost
Problem/Repair Description
Feb 2007
0
1000
0
Transmission software modification. Allows for smoother shifts from gears 1-2 and 2-3.
54000
0
Wave plate broke inside transmission. Required the complete transmission to be replaced.
63000
700
Failed water pump. Pump was replaced
67000
0
timing chains were stretched. GMC extended the warranty on this item. Engine had to be dropped to repair. Full parts and labor covered.
81000
GMC Acadia in Illinois, United States
Date
Odometer
(in miles)
Cost
Problem/Repair Description
Jan 2007
0
1000
0
Check engine light came on. Computer indicated a possible problem with an electronic control module. Dealer replaced it.
32000
0
Rear power hatch sensor became defective, ran continuously.
42000
0
Transmission was rebuilt, slipping.
42000
0
Climate control module went out, had to be replaced.
46500
100
New alternator was needed
61500
100
Power steering pump went out.