Nissan Rogue Problems and Repair Histories
515 TrueDelta members own a 2000 or newer Nissan Rogue. 167 of these members (32.4%) have reported repairs for their car. A total of 390 repairs to Nissan Rogues--an average of 0.8 per vehicle--have been reported.
See our lemon odds and nada odds page for more details. To see how frequently Nissan Rogue problems occur, check out our car reliability stats.
Want to read about specific problems behind these stats? Jump to the Nissan Rogue problem descriptions below.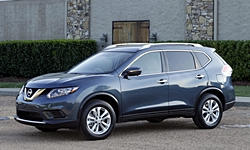 Don't infer Nissan Rogue problem frequency from what you see on this page. Many lucky owners have had no repairs, and their cars are not shown.
Select a problem area
18% of the Nissan Rogue repairs were to the engine, 15% to the transmission, 8% to the brakes, 10% to the suspension, 27% to the electrical or air-conditioning systems, 12% to the body and trim, and 9% to other areas of the vehicle.
Chart based on 390 repairs.
Of the Nissan Rogue repairs that were not covered by warranty and were not do-it-yourself repairs, 14% cost less than $100, 67% between $100 and $499, 16% between $500 and $999, and 4% between $1000 and $2499.
Chart based on 57 repair trips. The repair cost chart excludes repairs made under warranty, do-it-yourself repairs, and repair trips that include maintenance.
Non-members can see only ten
Nissan Rogue problems and repair histories
.
Log in
or
join us
to see them all.
Repair costs are in local units.
2008 Nissan Rogue 4dr SUV
170-horsepower 2.5L I4 CVT AWD
Nissan Rogue in Minnesota, United States
Date
Odometer
(in miles)
Cost
Problem/Repair Description
Nov 2007
0
4000
0
Rogue driven from Minneapolis to Ft Myers Fl with just 1,000 mi on the odometer. Noted vibration at highway speed. Exam showed loose vertical plastic panel between left front wheel and engine - apparently fasteners lost or never installed. Took to ...
6000
0
Took car on drive from MN to FL in Feb with about 1000mi on odometer. Noted fluttering noise at highway speed - inspection showed loose and broken plastic shroud between left front wheel and engine, fasteners missing, probably during manufacture.Took car
42700
0
Noticed "crunching" sound when accel or decel at 10-40 mph. Took to dealer, and they ordered warranty transmission replacement immed. No other mechanical complaints. Car performs well and we like it very much. Tight, quiet, handles well.
45700
0
rear wiper came on, ran a few cycles and stalled in the middle and wouldnt run. Happened each time I started the car. Dealer tested and ordered new control module under extended warranty. Yet everything seems OK now with old module. ???
54300
0
Noticed that the trim piece on the leading edge of the left roof rail was missing. Ordered a replacement from dealer and fixed it. ($40 for a piece of plastic! - not surprised). Wondering of if others have had similar problem.
55000
50
Interior map lights would not extinguish when shutting down or during driving, day or night. Dealer made temp fix, ordered and replaced switch. Flat fee of $50 pd for extended warranty service.
77000
350
Replaced rear brake pads and turned disks. Front brakes have some life remaining - even after 76000+ miles.
82700
0
Dealer did test drive. Unable to duplicate transmission noise, so no fix. Rattle is intermittent
91000
2008 Nissan Rogue 4dr SUV
170-horsepower 2.5L I4 6-speed shiftable CVT AWD
Nissan Rogue in Alberta, Canada
Date
Odometer
(in miles)
Cost
Problem/Repair Description
Sep 2007
0
3100
0
Rubber boot had come loose and was hanging on driveshaft causing a very loud noise when driving vehicle.
32240
0
Fuel gauge not reading full after gas fill up. Replaced fuel level sending unit. Fuel gauge still not reading correctly. Stays at full even after 1/4 tank used and smell of gas after driving. Replaced fuel sub sending unit. Reinstalled metal clamp on unit to clear gas smell. Rattling noise from transmission when de-celerating.
34720
0
Fuel gauge not reading accurately between full tank and 1/4 tank. Tested both main and sub sending units. Both units tested normal so no repair was done.
35940
0
Driver's door would not open with outside handle. Inner door panel was removed and cable was re-attached to door latch assembly.
48340
78
Steering wheel made a creaking sound when turning at low speeds
61960
400
Driver door would not open using outside door handle. Replaced door lock actuator.
62620
Nissan Rogue in Illinois, United States
Date
Odometer
(in miles)
Cost
Problem/Repair Description
Oct 2007
0
2000
0
AC does not automatically come on in the Defrost mode. It does, however, come on when moving the selector back to the floor output. Dealer agrees something is wrong, but does not know what to do about it yet. They hope to have an answer when I return f
3000
0
AC does not automatically come on in defrost mode. It does, however, come one when air is redirected back to the floor vents. Metallic rattle (constant) in rear hatch area.
Nissan Rogue in Alberta, Canada
Date
Odometer
(in miles)
Cost
Problem/Repair Description
Jan 2008
0
1240
0
Premature wear on drivers leather seat surface.
7440
0
Famous CVT rattle. Dealer and Nissan Canada are aware of problem and are working on a fix
11160
0
Seat surface was replaced. CVT rattle, CVT was replaced.
13020
0
Rear end made clunking noise. Diagnosed as bad shocks. Parts are on back order
13640
0
CVT started rattling again. Replaced CVT for the second time. I am now on mthe 3rd CVT New shocks installed.
27280
0
Replaced leather seat patch due to wear. After 3th transmission was installed, when idling in D or R there appears to be a new noise which is hard to describe. Dealer acknowledges noise, but at this time can't locate. New appointment to be scheduled.
27280
0
Alternator making excessive noise when idling. Parts are on back order
33480
0
excessive noise, thought to be alternator. Now diagnosed as AC compressor clutch assembly. Parts ordered and to be installed October
34720
0
Excessive noise AC compressor, even without AC on. Replaced AC compressor unit. Noise appears to be gone or at least less than before repair.
48980
390
At 72000km only 17% remaining rear brakes. ( 30% front). Decided at 79000 to replace rear brakes. Not sure how much was remaining,but rather safe than sorry.
2008 Nissan Rogue 4-door
4-cylinder CVT AWD
Nissan in Pennsylvania, United States
Date
Odometer
(in miles)
Cost
Problem/Repair Description
Oct 2007
1000
2000
0
The warning light for the passenger airbag is off was coming on and staying on for over 5 min. even though an adult of 110 pounds was properly seated in the area. After tech did nothing but a systems check, the problem appeared to correct itself.