I wouldn't buy a used Subaru 2.0l/2.5l without a warranty. Not unless the oil consumption was a problem and then fixed.
The Tacoma has had it's share of major recalls in 2016 and 2017 models due to leaking differential that could run dry and lock up while driving and a crank sensor could cause stalling while driving. Both of which have been recalled.
The prices on the Tacoma TRD Sport is $3,000-5,000 more than a discounted Colorado Z71 based on V6 with AWD on cars.com. Used 2015 models with less than 50,000 miles are the same price at about $30,000. So the Colorado has less depreciation than the Toyota Tacoma.
The Colorado/Canyon have won quite a few comparisons over the Tacoma since the twins were redesigned for 2015. The Tacoma is old these days as well as ithe Japanese Nissan Frontier. If you want one of the most rugged 4x4 systems the Frontier has an older, more traditional system. Just skip the Ridgeline for any off roading or towing as they over heat v with mild use.
As far as comfort you will have to spend some time in the seat to determine what is comfortable for you. These are not as nice and luxorious as your Toureg. If you want more comfort I'd take a drive in a Silverado as the new trucks are as quite as passenger cars today.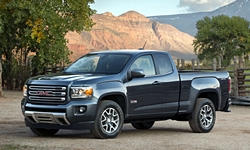 Response from LectroFuel
11:54 pm October 3, 2017
Subarus have had a variety of engine issues like oil, head gaskets, etc. Be careful if you are about to buy a Subaru.

If you want a truck with close to as much comfort as your Touareg, buy the Honda Ridgeline. It rides on the same platform as the Honda Accord and Pilot, so if you need to tow more than 5000 lbs (AWD rating is 5000 lbs, FWD is 3500 lbs), don't buy this. Normal people rarely haul more than this. The Colorado tows 7000 lbs. Other than the towing rating, this truck beats the other compact trucks in every way except off roading (because of tires). The reason they used a unibody platform was to make the truck almost entry-level luxury. It rides like a Honda Pilot, which is high praise especially for a truck (trucks frames make for a harsher ride, but higher tow rating). Also, reliability ratings are good! The Ridgeline AWD has a terrain management computer so you can select snow, mud, sand, and normal modes.

The only reason NormT said the transmission overheats is because an automotive YouTube channel had their Ridgeline test car's tranny overheat. He is talking about one truck...out of the tens or hundreds of thousands sold. So take that info with a grain of salt. I've searched online for other occurances and found nothing.

So you get the comfort, handling, and reliability of a Honda with the Ridgeline. The Colorado does have transmission issues and failures as well as the engine randomly stalling. Chevy also doesn't have a fix to these problems after two years. No recall, no software update.

The Tacoma has a few minor problems. The transmission has a delay when shifting into reverse and drive. Also the transmission shifts harshly. Toyota has a free software update for these problems.No reports of engine stalling and transmission failures though. The 2017 is much more reliable than the 2016 Tacoma. The Tacoma is a newer truck that rides like an old one. Really rough ride. The Colorado slightly beats it in ride comfort and the Honda beats the both trucks by a landslide. Hope this helps!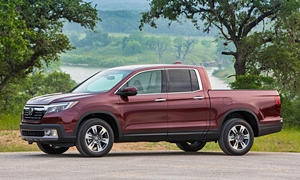 Response from NormT
7:41 am October 4, 2017
Not just one comparison review where the Honda Ridgeline over heated. Supposedly there is TSB out on it. It wouldn't be that big of a deal but the new trucklet was the first only to fail the climb.
Response from NormT
7:50 am October 4, 2017
Response from LectroFuel
8:08 pm October 4, 2017
Response from NormT
8:24 pm October 4, 2017
Response from JTT
7:24 pm November 3, 2017
Thanks for your interest in TrueDelta!