Inputting the interior dimensions for the redesigned crossover, the combination of 43.1 inches of front legroom and 36.8 inches of rear legroom surprised me. I've been in the new Escape, and its rear seat is considerably tighter than most in the segment. Yet these specs from the brochure (and various popular car sites) suggest it should rank among the roomiest.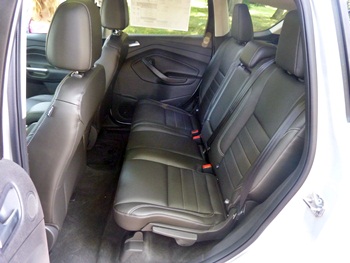 Suspecting a typo, I checked the official specifications sheet on Ford's media site. There they have not one but two front legroom specs, 40.4″ and 43.1″, the latter labeled "Max legroom." This makes some sense, as there are two legitimate ways to measure front legroom, one with the front seat set for an x-percentile male (which generally yields a number in the 40-to-41-inch range) and another with the front seat as far back as it will go. Most manufacturers publish only the first spec, but others (most notably Nissan and Hyundai) often publish the latter.
So what's wrong with Ford's technique? When other manufacturers release the max spec, they also measure rear legroom with the front seat all the way back. Ford, on the other hand, is providing front legroom with the front seat all the way back plus rear legroom with the front seat pushed forward 2.7 inches. I've entered specs for hundreds of different cars over the years, but I can't recall anyone doing this before.
If Ford had released two sets of numbers, I'd praise them, as the Escape could then be compared to competitors measured with either method. But the logical complement of a "maximum front legroom" spec, "minimum rear legroom," is nowhere to be found. They're only using the alternate method when it makes their car look better. Not only this, but in the numbers car buyers will see they're combining one stat measured using one method with another measured using the other to misleadingly suggest that the new Ford Escape's total legroom is nearly three inches greater than it actually is. This isn't a trivial amount. It's enough to move a car from near the bottom of a segment to near the top.
Ford has already recalled the Escape for a fuel line issue. Perhaps they should recall the brochures as well?