Last week I attended a presentation by Michael Dunne on the impact Chinese auto makers will have in the U.S at the Detroit-based Automotive Press Assocation. A few years ago Dunne wrote American Wheels, Chinese Roads: The Story of General Motors in China, an excellent book on that topic. He has long advised auto makers on how to operate in China, and more recently in Indonesia, and really knows his stuff. I expected to learn quite a bit from his presentation, and did.
One thing I learned from the book that remains as true as ever: the Chinese government isn't a monolith. Instead, there are powerful city governments that compete with one another and engage in a back-and-forth with the national government. Foreign auto makers are required to form 50-50 joint ventures with Chinese companies (a policy that Dunne agrees is terribly unfair, and one whose time has past). In nearly all cases foreign auto makers have partnered with Chinese companies controlled by a city government, not by the national government of China. General Motors and Volkswagen, for example, have both partnered with SAIC, and company owned and controlled by the city of Shanghai.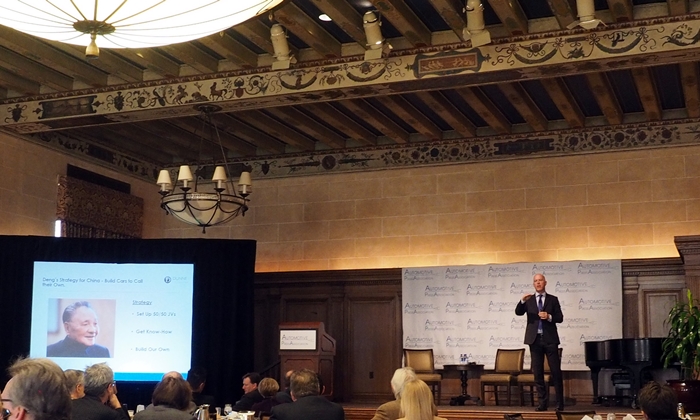 Auto makers could partner with a private Chinese company. The advantage of this would be greater speed and flexibility, as the government-owned companies tend to be bureaucratic and slow to make decisions. But government-owned companies can open doors (get permits approved, obtain contracts from other companies owned by the government, etc.) that private companies cannot. So there's a trade-off.
China forced these joint ventures so that Chinese companies could acquire know-how and eventually strike out on their own. They are now pretty much ready to do the latter, so the need for the JVs has passed.
Chinese auto companies have even begun investing in U.S.-based facilities. Many already have operations here. Even without pressure from Trump they increasingly employ Americans.
This is especially the case with electric vehicles (EVs). Here events have taken an interesting turn. China has no oil, and doesn't want to get involved in the Middle East the way the U.S. has. So the national government has decided that China will become not just a follower in EVs, but a technology and manufacturing leader. To accomplish this, they have not directed their auto companies to build EVs. Instead, in 2014 the government approached Chinese who have made billions with internet-based businesses and asked them to found EV companies. A few have. To develop these EVs, they've set up engineering facilities in California.
Dunne very much expects these ventures to succeed. His overarching theme: the Chinese never give up. They've come a long way in the past two decades, and are just getting started. It's already possible to buy two Chinese-made cars in the U.S., the Buick Envision crossover and the Volvo S60 Inscription sedan. Many more are on the way. Will they be reliable? As soon as we know, you'll know.