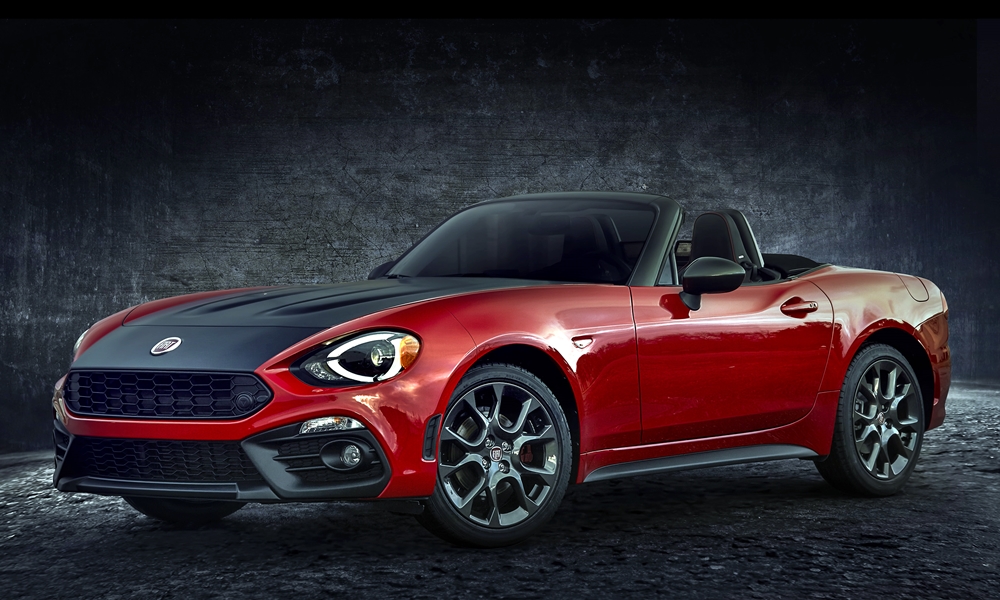 Fiat has released full pricing and features information for the new Miata-based 124 Spider roadster, and many people are surprised that they priced it very close to the Mazda.
At the bottom of the ranges, the 124 Spider starts $255 higher than the MX-5 Miata, $25,990 vs. $25,735. Note, though, that the Fiat is a 2017 while the Mazda is a 2016. Any Mazda price increase for 2017 will shrink this difference, and perhaps even make the Fiat the less expensive of the two.
A twist: the MX-5 Miata Sport comes with about $900 in additional standard content, most notably LED headlights (part of an option package on the Fiat) and a CD player (one does not appear to be available on the Fiat). So the feature-adjusted difference is about $1,200. Mechanically, the cars differ most in that the 124 Spider has a 160-horsepower turbocharged 1.4-liter engine while the MX-5 Miata has a 155-horsepower non-turbocharged 2.0-liter. The Fiat engine has a larger advantage at lower rpm, but also won't produce it's power as seamlessly. The Fiat could also roll less in hard turns.
Move to the other extreme and compare fully equipped cars, and a 124 Spider Lusso with automatic transmission and the "Premium Collection" lists for $1,545 more than an MX-5 Miata Grand Touring with automatic transmission, $33,635 vs. $32,090. Adjusting for feature differences reduces the gap to about $1,100, similar to the first comparison.
But that's not the right way to buy these cars, is it? For driving enthusiasts Fiat offers the 124 Spider Elaborazione Abarth and Mazda offers the MX-5 Miata Club. The Fiat is actually the slightly less expensive of the two, $29,190 vs. $29,420. Plus, if the information on fiatusa.com is correct, it includes about $300 in additional features, for an adjusted difference of about $500.
The comparison tips even further in the Fiat's favor if both cars are equipped with Brembo brakes. These are packaged with about $2,000 worth of BBS wheels on the Mazda, giving the Fiat a price advantage of about $2,100. You could add the 124 Spider's optional Recaro seats and still have nearly a grand left over.
To modify any of the above comparisons, click the link and look for "Configure" in the breadcrumbs.