Total legroom spec
Tuesday, May 7th, 2013
Among my car-related pet peeves, I hate it when I hear that one car has "more rear legroom" than another when such a claim ignores that the other car has significantly more front legroom. Among the ugly secrets of legroom specs is one that should be, but rarely seems to be, obvious: you can move at least the front seat, and alter both front and rear legroom in the process. To avoid making a misleading comparison in my own reviews, I check the total amount of legroom.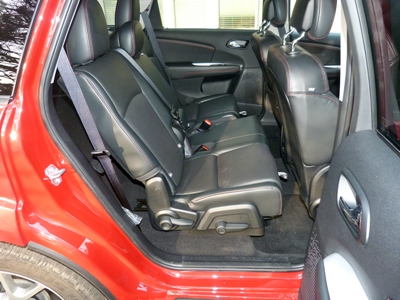 For example, I recently compared the new 2013 Nissan Pathfinder with the GMC Acadia. According to the official specs, the Acadia has significantly more third-row legroom, 33.2 inches vs. 30.7. But focusing on this spec ignores the fact that the second row can be adjusted fore-and-aft along a roughly half-foot track in either vehicle. The front seat similarly adjusts, like in just about any car. To really compare legroom, we've got to sum the specs for all three rows: 41.3+36.8+33.2 for the Acadia vs. 42.3+41.7+30.7 for the Pathfinder. Do this, and you'll find that the Nissan comes out 3.4 inches ahead, 114.7 vs. 111.3.
We recently improved TrueDelta's specs pages. Since we were messing with the code anyway, we added a new "total legroom" spec. Now I won't have to actually do the math. And you won't, either!